---
Bilderberg | Reports | Origins | Bernhard | Anti-Jewish?
---
2008 | 2007 | '06 | '05 | '04 | '03 | '02 | 2001 | 2000 | 1999 | '98 | '97 | '96 | '95 | '94 | '93 | '92 | '91
Bilderberg Conferences
1997 Bilderberg Conference - June 12-15, Pine Isle resort, Lake Lanier, nr. Atlanta, Georgia, USA
[This site campaigns for a press conference at all Bilderberg venues - and a declaration from the steering committee that any consensus reached must be in our public, not their private interest]
Tony Gosling
Oxford, 06JUL97 120 of the world's most powerful men have been meeting in four-day secret session to discuss the future shape of the western world. With the Amsterdam EUROTOP meeting of the heads of government commencing straight after this elite meeting, last minute tactics to force through EMU will have been top of the agenda.
Observer Editor Will Hutton and Viscount Cranborne, Leader of the Opposition in the House of Lords were amongst other top politicians and the heads of banks, industry and the media attending the AGM of the clandestine Bilderberg Group. Tony Blair, now British Prime minister, attended four years ago.
Many doubt the existence of the group, but ex-participants unhappy with initiatives that undermine democracy and human dignity have spoken out. Evidence of news wire service reports, including Reuters news agency each year, proves it to be no fiction. The meeting took place 12th - 15th June 1997 at the Renaissance Pine Isle Resort, Lake Lanier Island in the Appalachian mountains. The island is near the town of Gainesville, Georgia, 50 miles from Atlanta.
The US/European group has been meeting since 1954 but it is only in the last couple of years that its existence has become more widely known outside the inner circle. Notice of the date and location of the meeting was revealed beforehand last year. Sadly though media self-censorship still led to only scant and localised news coverage in 1996.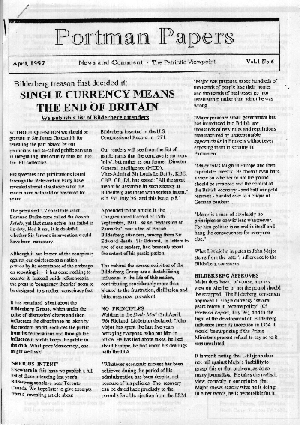 Advance warning of the 1997 AGM location was leaked in the April edition of 'The Portman Papers' journal under the headline 'Bilderberg treason first decided it, single currency means the end of Britain'. In the article 'Bilderberg Revealed', Chairman of the US Amalgamated Bank and Bilderberg Steering Committee member Jack Scheinkman testifies to Bilderberg's influence: "The idea of a single currency was discussed several years back before it became policy." In the same article George McGhee, former US Ambassador to West Germany states: "The Treaty of Rome, which brought the Common Market into being, was nurtured at Bilderberg meetings." Prince Bernhard of the Netherlands maintains that Bilderberg was where the idea of the EEC was first mooted.
What the group should have been discussing at their island retreat was a strategy for putting an end to the major ills of today's world: the bloody global weapons trade and poverty caused by crippling debt. These burdens together systematically bring death and despair to countless millions every year around the planet.
With such an array of the wealthy and powerful in the same place, these issues could be dealt with and decisions made that would bring hope and life to millions of poverty-stricken and dying people the world over. But instead this time they were believed to be discussing ways to increase the groups secrecy, possibly by changing its name; fast tracking austerity measures and EMU; and extending the influence of the Transnational Corporations and Banks over Western politicians.
The unhappy result is a picture of western democracy subverted, with decision makers getting together not for reasons important to ordinary people: social justice; common interest; and quality of life, but to strengthen economic austerity and bring even more private gain for the worlds political and corporate elite. Bilderbergers talk openly of centralising power in their own interests, which leaves the man in the street ever further away from controlling his own destiny.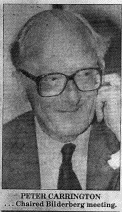 The 1996 Bilderberg AGM took place at the Canadian Imperial Bank of Commerce 'Leadership Centre' in Montreal and was hosted by Canadian press baron Conrad Black. In the chair was Britain's Lord Carrington and the attendance register of 120 included an impressive collection of high-powered men: Henry Kissinger; U.K. defence secretary, Malcolm Rifkind; James Wolfensohn, president of the World Bank; David Rockefeller, chairman of the Chase Manhattan Bank; William J Perry, U.S. secretary of defense; Andrew Knight, director of News Corporation; Martin Taylor, chief executive of Barclays Bank; Jean Chretien, prime minister of Canada; Ulrich Cartellieri, director of Deutche Bank; Stanley Fischer, managing director of the IMF; Morris Tabaksnlat, chairman of Unilever; Alexander Trotman, chairman of the Ford Motor Company and several royal heads of state.
With so many of the world's élite in attendance security at the venue will have been extremely tight. European and US secret services co-operate in enforcing a strict no-go area round venues helping to ensure a media black-out.
One of the reasons that the media have been so slow to investigate and report on the Bilderbergers is that many of the global press bosses, including Peter Job, Chief Executive of Reuters, are part of the group. Other mainstream media barons have corporate agendas themselves while many independent media, for legal reasons, are wary of revealing secrets of the rich and powerful without evidence, which in the past has been difficult to find.
So what vision, if any, is being pursued. We all have a right, indeed in an age of mass-starvation and with the continued threat of global destruction, a need to know.
One cannot help but be a little suspicious when priorities for the future of mankind are being considered, by those who have real influence over that future, in total secret.
---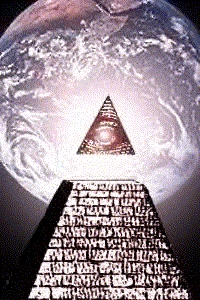 The following UNS release appeared on Reuters international news wire service. This service is for newsrooms around the world. So it's not as if the papers and TV don't know, there's simply a friendly understanding that it will not be reported. Self-censorship.
The media barons employ only obedient editors. I bet there were a few, "...hey, look at this boss, we gotta run this one!" Good luck with your job mate!
Incidentally, if you want it you can buy Reuters Business Briefing article access for about £400.00 per month which includes access to the wire service archive.
---
13Jun97 USA: BILDERBERG MEETING OF 1997 ASSEMBLES.
The 45th Bilderberg Meeting will be held near Atlanta, Georgia, USA, from June 12-15, 1997, to discuss the Atlantic Relationship in a Time of Change. Among others the Conference will discuss NATO, China, Islam, EMU, Energy, Growth, Corporate Governance.
About 120 participants from North America and Europe will attend the discussions. The meeting is private in order to encourage frank and open discussion. Bilderberg takes its name from the Hotel where the first meeting took place in May 1954. That meeting grew out of the concern on both sides of the Atlantic that the industrialized democracies in Europe and North America were not working together as closely as they should on matters of critical importance. It was felt regular, off-the-record discussions would contribute to a better understanding of the complex forces and major trends affecting Western nations.
What is unique about Bilderberg as a forum is:
1. The broad cross-section of leading citizens, in and out of government, that are assembled for nearly three days of purely informal discussion about topics of current concern especially in the fields of foreign affairs and the international economy.
2. The strong feeling among participants that in view of the differing attitudes and experiences of their nations, there is a continuous, clear need to develop an understanding in which these concerns can be accommodated.
3. The privacy of the meetings, which have no purpose other than to allow participants to speak their minds openly and freely.
At the meetings, no resolutions are proposed, no votes taken, and no policy statements issued. In short, Bilderberg is a flexible and informal international leadership-forum in which different viewpoints can be expressed and mutual understanding enhanced.
To ensure full discussion, individuals representing a wide range of political and economic points of view are invited. Two-thirds of the participants come from Europe and the remainder from the United States and Canada. Within this framework, on average about one-third are from the government sector and the remaining two-thirds from a variety of fields including finance, industry, labour, education and the media.
Participants are solely invited for their knowledge, experience and standing and with reference to the topics on the agenda. All participants attend Bilderberg in a private and not in an official capacity.
Participants have agreed not to give interviews to the press during the meeting. In contacts with the media after the conference it is an established rule no attribution should be made to individual participants of what was discussed during the meeting. There will be no press conference.
---
A list of participants is appended:
[Do see article on Blair's attendance at Turnberry 1998 for the significance, or otherwise, of this list]
Bilderberg Meetings PineIsle Resort near Atlanta, USA June 12-15, 1997
Current list of participants. (Status June 12.)
Chairman. GB. Carrington, Peter. Former Chairman of the Board, Christies International plc; Former Secretary General, NATO. Honorary Secretary General.
NL. Halberstadt, Victor. Professor of Public Economics, Leiden University.
I. Agnelli, Giovanni. Honorary Chairman, Fiat S.p.A.
I. Agnelli, Umberto. Chairman, IFIL S.p.A.
USA. Allaire, Paul A. Chairman, Xerox Corporation.
DK. Andersen, Bodil Nyboe. Governor, Central Bank of Denmark.
USA. Armacost, Michael H. President, The Brookings Institution.
P. Balsemao, Francisco Pinto. Professor of Communication Science, New University, Lisbon; Chairman, IMPRESA, S.G.P.S.; Former Prime Minister.
S. Barnevik, Percy. Chairman, ABB Asea Brown Boveri Ltd.
USA. Bartley, Robert L. Editor, Wall Street Journal.
CDN. Bassett, Isabel. Parliamentary Assistant to the Ministry of Finance, Government of Ontario.
USA. Bentsen, Lloyd M. Former Secretary of the Treasury, partner, Verner Liipfert Bernhard, McPherson and Hand.
USA. Berger, Samuel R. Assistant to the President for National Security Affairs.
NL. Bergh, Maarten A. van den Group Managing Director, Royal Dutch/Shell Group of Companies.
USA. Bergsten, C. Fred. Director, Institute for International Economics.
USA. Bernstein Richard. Book Critic, New York Times.
NL. Beugel, Ernst H. van der. Emeritus Professor of International Relations, Leiden University; Former Honorary Secretary General of Bilderberg Meetings for Europe and Canada.
TR. Beyazit, Selahattin. Director of Companies.
INT. Bildt, Carl. The High Representative.
TR. Bilgin, Dinc. Chairman of the Board, Sabah Yayincilik A.S.
CDN. Black, Conrad M. Chairman, The Telegraph plc.
H. Bokros, Lajos. Senior Adviser, The World Bank.
P. Borges, Antonio Dean. INSEAD.
GB. Browne, E. John P. Group Chief Executive, The British Petroleum Company p.l.c.
USA. Bryan, John H. Chairman and CEO, Sara Lee Corporation.
GB. Buchanan, Robin W.T. Senior Partner, Bain & Company.
D. Burda, Hubert. Chairman, Burda Media.
CH. Butler, Hugo. Editor in Chief, Neue Zurcher Zeitung.
GR. Carras, Costa. Director of Companies,
D Cartellieri, Ulrich Member of the Supervisory Board, Deutsche Bank AG.
E. Carvajal Urquijo, Jaime Chairman and General Manager, Iberfomento.
F. Collomb, Bertrand. Chairman and CEO, Lafarge.
USA. Corzine, Jon S. Chairman and CEO, Goldman Sachs & Co.
CH Cotti, Flavio. Federal Councillor and Minister for Foreign Affairs.
GB. Cranborne, Robert M.J.C. Leader of the Opposition in the House of Lords.
USA. Dam, Kenneth W. Max Pam Professor of American and Foreign Law, The University of Chicago Law School.
GR. David, George A. Chairman of the Board, Hellenic Bottling Company S.A.
B. Davignon, Etienne. Executive Chairman, Societe Generale de Belgique; Former Vice Chairman of the Commission of the European Communities.
B. Donnea, Francois. Former Minister of Defense; Mayor of Brussels; Member of Parliament.
DK. Ellemann-Jensen, Uffe. Chairman, Liberal Party.
TR. Ercel, Gazi. Governor, Central Bank of Turkey.
TR. Erguder, Ustun. Rector, Bosporus University.
CDN. Frum, David. Political Commentator.
USA. Gadiesh, Orit Chairman of the Board, Bain & Company Inc.
P. Galvao Teles, Jose M. Lawyer, Member of the Social Party, Member of the Council of State.
F. Gergorin, Jean-Louis. Member of the Board of Directors, Deputy to the Chairman Strategic Coordination, Matra Hachette.
USA. Gerstner, Jr, Louis V. Chairman, IBM Corporation.
USA. Hamilton, Lee H. Congressman (D, Indiana.)
N. Hoegh, Westye. Chairman of the Board, Leif Hoegh & Co. ASA; Former President, Norwegian Shipowners' Association.
USA. Holbrooke, Richard C. Former Assistant Secretary for European Affairs, Vice chairman, CS First Boston.
GB. Hutton, Will. Editor, The Observer.
B. Huyghebaert, Jan. Chairman, Almanij-Kredietbank Groep.
FIN. Iloniemi, Jaakko. Managing Director, Centre for Finnish Business and Policy Studies; Former Ambassador to the USA.
D. Issing, H.C. Otmar. Member of the Board, Deutsche Bundesbank.
GB. Jacobi, Mary Jo. Head of Group Public Affairs, HSBC Holdings plc; Former US Assistant Secretary of Commerce.
INT. Johnston, Donald J. Secretary-General, OECD.
USA. Jordan, Jr., Vernon E. Senior Partner, Akin, Gump, Strauss, Hauer & Feld, LLP (Attorneys-at- Law.)
USA. Kissinger, Henry A. Former Secretary of State; Chairman, Kissinger Associates, Inc.
NL. Korteweg, Pieter. President and CEO, Robeco Group.
A. Kothbauer, Max. Director of Companies.
GR. Kiranidiotis, Yannos. Deputy Minister for Foreign Affairs.
F. Levy-Lang, Andre. Chairman of the Board of Management, Banque Paribas.
USA Lewis, William W. Director of McKinsey Global Institute, McKinsey & Company.
GB. Mabro, Robert E. Director, Oxford Institute for Energy Studies.
USA. McDonough, William J. President, Federal Reserve Bank of New York.
A. Mitterbauer, Peter. Chairman, Miba AG
F. Montbrial, Thierry de. Director, French Institute of International Relations; Professor of Economics, Ecole Polytechnique.
CDN. Munroe-Blum, Heather. Vice-President, Research and International Relations, University of Toronto.
N. Myklebust, Egil. Chief Executive, Norsk Hydro.
D. Nass, Matthias. Managing Editor, Die Zeit.
NL. Netherlands, Her Majesty the Queen of the.
FIN. Niinisto, Sauli V. Minister of Finance.
USA. Nunn, Sam. Former Senator (D, Georgia.)
ICE. Oddsson, David Prime Minister.
PL. Olechowski, Andrzej. Chairman, Central Europe Trust, Poland.
FIN. Ollila, Jorma President and CEO, Nokia Corporation.
USA. Page, Jr., John M. Chief Economist, Middle East and North Africa Region, The World Bank.
USA. Powell, Colin L. Former Chairman, Joint Chiefs of Staff.
CH. Pury, David de. Chairman, de Pury Pictet Turrettini & Co. Ltd.
IRL. Quinn, Lochlann. Chairman, Allied Irish Bank Group.
GB. Robertson, Simon. Former Chairman, Kleinwort Benson Group plc.
USA. Rockefeller, David. Chairman, Chase Manhattan Bank International Advisory Committee.
USA. Rockefeller, Sharon Percy. President and CEO, WETA-TV and FM (PBS.)
E. Rodriguez Inciarte, Matias. Vice Chairman, Banco de Santander.
GB. Rell, Eric. Senior Adviser, SBC Warburg.
I. Rossella, Carlo Editor, Editrice La Stampa S.p.A. F. Roy, Olivier. University Professor and Researcher, Laboratoire Monde Iranien, CNRS.
CDN. Sabia, Maureen. Corporate Director and President, Maureen Sabia International.
P. Salgado, Ricardo. Espirito Santo President and CEO, Banco Espirito Santo.
D. Schrempp, Jurgen E. Chairman of the Board of Management, Daimler-Benz AG.
INT. Schwab, Klaus. President, World Economic Forum.
DK. Seidenfaden, Toger. Editor in Chief, Politiken A/S.
USA. Sheinkman, Jack. Chairman of the Board, Amalgamated Bank.
I. Silvestri, Stefano Vice President, Istituto Affari Internazionali; former Undersecretary of Defence.
USA. Stahl, Lesley R. National Affairs Correspondent, CBS News.
USA. Stephanopoulos, George Visiting Professor, Columbia University, Former Senior Advisor to the President for Policy and Strategy.
H. Suryanyi, Gyorgy. President, National Bank of Hungary.
IRL. Sutherland, Peter D. Chairman and Managing Director, Goldman Sachs International; Former Director General, GATT and WTO.
S. Svedberg, Bjorn President and CEO, Skandinaviska Enskilda Banken.
TR. Tara, Sinan. Vice President, Enka Construction & Ind. Inc.
GB. Taylor, J. Martin. Chief Executive, Barclays PLC.
GB. Villeneuve, Andre-Francois H. Executive Director, Reuters Group Holdings plc.
USA. Vogel, Ezra F. Henry Ford II Professor of Social Sciences, Harvard University.
USA. Volcker, Paul A. Chairman, BT Wolfensohn.
A. Vranitzky, Franz. Former Federal Chancellor.
INT. Vries, Gijs M. de Chairman, Liberal Group, European Parliament.
S. Wallenberg, Marcus. Executive Vice President, Investor AB.
USA. Weiss, Stanley A. Chairman, Business Executives for National Security, Inc.
USA. Whitehead, John C. Former Deputy Secretary of State.
INT. Wolfensohn, James D. President, The World Bank.
D. Wolff von Amerongen, Otto. Chairman and CEO of Otto Wolff GmbH.
USA. Wolfowitz, Paul Dean, Nitze School of Advanced International Studies; Former Under Secretary of Defense for Policy.
NL. Wijffels, Herman H.F. Chairman of the Executive Board, Rabobank Nederland.
GB. Yahuda, Michael B. Professor of International Relations, London School of Economics.
USA. Yost, Casimir A. Director, Institute for the Study of Diplomacy, School of Foreign Service, Georgetown University, Washington.
Advisory to editors:
UNS does not warrant or make any representations regarding the correctness, accuracy or reliability of the contents of the press release. Under no circumstances shall UNS be liable for damages resulting from the use of information contained in the press release. All facts should be independently checked. UNS
TOPIC: POLITICS TOPIC:
CONFERENCE Contact: Charles Muller or Ronnie Glattauer of Murden & Co, tel Georgia: 00 1 770 945 8921, for the 45th Annual Bilderberg Meeting. TWO TEN COMMUNICATIONS 13/6/97
---
Bilderberg Meets In Georgia
by Charles Overbeck - Matrix Editor - easterisle@parascope.com
The global elite have been busy lately. Just last month, Microsoft CEO Bill Gates invited 100 of theworld's political and economic heavy-hitters to a "CEO Summit" in Seattle, including Vice President Al Gore and representatives of fourteen corporate members of the Council on Foreign Relations. Representatives of the world's most powerful industrialized nations (and Russia) met in Denver on June 19 for the annual Group of Seven meeting. And on June 12, members of the ultra-secretive Bilderberg Group arrived behind tinted limousine windows for their annual meeting at a Lake Lanier Islands resort near Atlanta, Georgia.
Hillary Clinton was on hand to greet the 120 Bilderberg attendees, drawn from the highest ranks of global business, politics, media, education and finance. Charles Muller, spokesman for the Bilderberg, told the Gainsville Times that the group would be discussing "issues affecting the Western world that include China, NATO, Islam, energy, growth and corporate governance."
"The U.S. Constitution has been violated here today and will be throughout the weekend," said activist Cyndee Parker, who joined a small group of Canadian and American protesters outside the cordoned-off entrance to the hotel grounds. "World policy is being decided behind closed doors and the national news media is nowhere in sight. This is an injustice and insult to the American people."
"If this isn't any big deal, why close the doors?" asked protester Thomas Wethington. "I don't want U.S. public policy decided in private by a group of international financiers."
Security was tight for the secretive four-day conference. Hall County Sheriff's deputies and Secret Service agents heavily guarded the hotel entrance as Georgia State Patrol troopers escorted Bilderbergers up the driveway. A military-style checkpoint called "Operation Sifter" was set up nearby on Interstate I-985, consisting of law enforcement agents in camouflage, police dogs combing nearby woods, Georgia National Guard helicopters providing air support, and Georgia Bureau of Investigation officers directing traffic. Hall County Sheriff Bob Vass said that "Operation Sifter" had nothing to do with the Bilderberg meeting. No word yet on who he thinks he's fooling.
Last year the Bilderberg met in Toronto, Canada; the group last met in Georgia in 1957. This year's attendees included Colin Powell, Henry Kissinger, World Bank president James Wolfensohn, former GATT and WTO director general Peter Sutherland, and David Rockefeller. Lesley Stahl, the CBS News correspondent who made an ass of herself by calling for Internet censorship during a 60 Minutes segment on conspiracy theories, was just one of the many media representatives on hand NOT covering the event. (For a complete list of attendees, see the 1997 Bilderberg Attendee List.)
Sources:
Charles Duncan, "First Lady Exits Early; Bilderberg Begins," The Gainsville, Georgia Times, Friday, June 13, 1997;
David Morgan, "European and American Elite Gather in U.S. South," Reuter, June 12, 1997;
"Bilderberg Meeting of 1997 Assembles," PRNewswire, June 12, 1997.
Parascope article on 1997 Georgia conference http://www.parascope.com/articles/0697/bilderberg.htm
ParaScope, Inc. easterisle@parascope.com
---
In 1997 some of the Bilderbergers flew into the small Gainesville Airport named Lee Gilmer Memorial Airport...Gainesville is about 15 miles north of the Islands Complex. Most of the Bilderbergers flew into the Atlanta airport, and there was a limo service that ferried them in...Black Lincoln Towncars... Security was very tight, as one would expect, and the area was easy to secure.
The freeway was closed for a "routine traffic check" before the exit to the Lake Lanier Islands Complex. Irate drivers and long back-ups caused quite a stir...it was conducted by the Hall County Sheriff's Department...the head of such is a Bob Vass...I do recall that the "official" story was that it had nothing to do with the Bilderbergers...yeah right...we are just all so stupid
But what is even more ironic, is that the sheriff probably had no idea who or what the name Bilderberg implied.
Renasissance Lake Lanier Islands
---
Link to another 1997 Bilderberg page http://www.parascope.com/articles/0697/bilderberg.htm
This page purports to contain the secret agenda for the 1997 meeting http://www.netizen.org/Arc-Hive/SEC_0011.TXV
---