---
Bilderberg | Reports | Origins | Bernhard | Anti-Jewish?
---
2008 | 2007 | '06 | '05 | '04 | '03 | '02 | 2001 | 2000 | 1999 | '98 | '97 | '96 | '95 | '94 | '93 | '92 | '91
Bilderberg Conferences
Bilderberg conference 2003: Versailles, Paris, France - Thursday 15th to Sunday 18th May
[I have decided to announce and cover all future Bilderberg meetings until a press conference is arranged by the organisers and third world debt is on the agenda]
Danny Estulin's article about this year's conference
Is this justice... or pro-war Bilderberg backstabbing?
See latest additions to the Bilderberg articles 2003 section
The all new Bilderberg discussion forum
Cybercampaign to get the minutes of the 2002 Bilderberg meeting off Unelected E.U. Commission President Romano Prodi.
03Jul03 - Listen to the BBC Bilderberg documentary mp3 audio files here: low quality - high quality
David Rockefeller at Versailles - on the record
Leaked document from the french ministry of the interior.
THE OFFICIAL 'PARTICIPANT LIST' IS INCOMPLETE: At least one of the most important of this year's guests: French foreign minister Dominique de Villepin (articles 1 and 2) and possibly King Juan Carlos of Spain too (right of photo?) are missing from Bilderberg's official list - how many more? We now have concrete proof that the official 'strictly confidential' list produced by the Bilderberg Secretariat in Leiden for mainstream press and newswires only is known to be only a partial participant list with sensitive names removed.
Lots of pictures as well as several participants who are not on the official list? Bilderberg article in Norwegian Daily Newspaper Dagens Naeringsliv 24/25th May 2003 - Acrobat (.pdf) files - pages: 1, 25, 26, 27, 28, 29, 30, 31.
I have decided to announce and cover all future Bilderberg meetings until a press conference is arranged by the organisers and third world debt is on the agenda.
Paris Indymedia has a page with lots of Bilderberg pictures - mostly taken through the windows of the little trains which took participants up to visit the palace of Versailles on the Saturday
Questions about Bilderberg answered by President of the European Commission Romano Prodi for the European Parliament - May 2003. Three European Commissioners attended the Versailles meeting: Mario Monti (competition), Frits Bolkenstein (internal market) and Pascal Lamy (trade).
all pictures on this page (except the hotel at the top) are from this year's conference
Some Bilderberg 2003 news articles
Rest of this page:
---
2003 Agenda -- from Bilderberg Press Release
"The conference will deal mainly with European-American relations and in this context Iraq, The Middle East after Terrorism, Non-Proliferation, The European Convention, Economic Problems." (rest of 'press release' much like previous years but no participant list yet)
2003 Participant list
BILDERBERG MEETINGS
Versailles, France, 15-18th May 2003
CURRENT LIST OF PARTICIPANTS
B - Honorary Chairman - Davignon, Etienne - Vice-Chairman, Societe Generale de Belgique
GB - Honorary Secretary General - Taylor. J Martin - Chairman WH Smith PLC; International advisor, Goldman Sachs International
F - Adler, Alexandre - Editorial counsel, Le Figaro (*)
I - Ambrosetti, Alfredo - Chairman Ambrosetti Group
TR - Babacan, Ali - Minister of Economic Affairs
GR - Bakoyannis, Dora - Mayor of Athens
GB - Balls, Edward - Chief Economic Advisor to the Treasury
P - Balsemão, Francisco Pinto - Professor of Communication Science, New University, Lisbon; Chairman and CEO, IMPRESA, S.G.P.S.; Former Prime Minister
P - Barroso, José M. Durão - Prime Minister
TR - Bayar, Mehmet A. - Deputy Chairman of DYP (True Path Party)
A - Becker, Erich - Chairman of the Managing Board and CEO, VA Technologie AG
I - Bendetti, Rodolfo de - Managing Director CIR S.p.A.
I - Bernabè, Franco - Chairman Franco Bernabe & C. S.p.A.
F - Beytout, Nicolas - Editor-in-Chief, Les Echos
KW - Bishara, Ahmad E. - Secretary General of Kuwait's liberal National Democratic Party
CDN - Black, Conrad M. - Chairman, Telegraph Group Limited
INT - Bolkestein, Frits - Internal Markets Commissioner, European Commission
USA - Bolton, John R. - Under-Secretary of State for Arms Control and International Security
F - Bon, Michel - Honorary Chairman, France Telecom
F - Bruguière, Jean-Louis - First Vice President, Justice Department
D - Burda, Hubert - Publisher and CEO, Hubert Burda Media Holding GmbH & Co.
F - Camus, Phillipe - CEO, European Aeronautics Defence and Space company European Aeronautics Defence and Space company (EADS)
INT - Cary, Anthony J. - Head of Christopher Patten's cabinet, EU. [Patten is European Commissioner for Enlargement]
F - Castries, Henri de - Chairman of the Board, AXA
E - Cebrián, Juan Luis - CEO, PRISA
B - Claes, Willy - Minister of State [Willy Claes is not now a Belgian Minister but former Belgian Foreign Minister and former Secretary General of NATO 1994-1995 - now disgraced - TG]
GB - Clarke, Kenneth - Member of Parliament, [former Chancellor of the Exchequer]
USA - Collins, Timothy C. - Senior Managing Director and CEO, Ripplewood Holdings LLC
F - Collomb, Bertrand - Chairman and CEO, Lafarge
F - Copé, Jean-François - Secretary of State in charge of relations with Parliament; Government Spokesman
USA - Corzine, Jon S. - Senator (D, New Jersey)
S - Dahlbäck, Claes - Chairman, Investor AB
GR - David, George A. - Chairman of the Board, Coca-Cola H.B.C. S.A.
USA - Donilon, Thomas E. - Executive Vice President, Fannie Mae
I - Draghi, Mario - Vice-Chairman and Managing Director, Goldman Sachs International
DK - Eldrup, Anders - CEO, Danish Oil and Gas Corporation
USA - Feldstein, Martin S. - President and CEO, National Bureau of Economic Research
CDN - Fell, Anthony S. - Chairman, RBC Dominion Securities Inc.
USA - Friedman, Thomas L. - Foreign Affairs Columnist, The New York Times
F - Gergorin, Jean-Luis - Executive Vice President, Strategic Coordination, European Aeronautics Defence and Space company (EADS)
USA - Gigot, Paul A. - Editorial page editor, The Wall Street Journal
F - Giscard d'Estaing, Valéry - French President 1974-81; Chairman of the Convention on the Future of Europe
N - Gjedrem, Svein - Governor, Central Bank of Norway
IRL - Gleeson, Dermot - Chairman designate, Allied Irish Banks, p.l.c.
GB - Gould, Philip - Public Relations Adviser to Prime Minister Blair
USA - Haass, Richard N. - Director, Office of Policy Planning Staff, State Department
NL - Halberstadt, Victor - Professor of Economics, Leiden University; Former honorary Secretary General of Bilderberg Meetings
CDN - Harper, Stephen - Leader of the Opposition
USA - Hertog, Roger - Vice-Chairman, Alliance Capital Management
NL - Hoop Scheffer, Jaap G. de - Minister for Foreign Affairs
USA - Hubbard, Allan B. - President, E&A Industries
USA - Hubbard, R. Glenn - Russell L. Carson Professor of Economics and Finance, Columbia University
USA - Johnson, James A. - Vice Chairman, Perseus L.L.C.
USA - Jordan, Jr., Vernon E. - Senior Managing Director, Lazard Freres & Co. L.L.C.
CH - Kielholz, Walter B. - Former Chairman of the Board, Credit Suisse; Executive Vice Chairman of the Board of Directors, Swiss Re
GB - King, Mervyn A. - Deputy Governor, Bank of England
USA - Kissinger, Henry A. - Chairman, Kissinger Associates, Inc.; Member, Defense Policy Board; Member J.P. Morgan International Council
FIN - Kivinen, Olli - Senior Editor & Columnist, Helsingin Sanomat
NL - Kok, Wim - Former Prime Minister
D - Kopper, Hilmar - Former Chairman of the Supervisory Board, Deutsche Bank AG
USA - Kravis, Henry R. - Founding Partner, Kohlberg Kravis Roberts & Co.
USA - Kravis, Marie-Joseé - Senior Fellow, Hudson Institute, Inc.
INT - Lamy, Pascal - Trade Commissioner, European Commission
F - Lellouche, Pierre - Vice Chairman, NATO Parliamentary Assembly (**)
F - Lévy-Lang, André - Former Chairman, Paribas
S - Lindh, Anna - Minister for Foreign Affairs
FIN - Lipponen, Paavo - Former Prime Minister; Speaker of the Parliament
DK - Lykketoft, Mogens - Chairman, Social Democrat Party
CDN - MacMillan, Margaret O. - Provost, Trinity College, University of Toronto
RUS - Margelov, Mikhail V. - Chairman, Committee for Foreign Affairs, Council of Federation
F - Montbrial, Thierry de - President, French Institute of International Relations (IFRI)
INT - Monti, Mario - Competition Commissioner, European Commission
USA - Mundie, Craig J. - Chief Technical Officer, Advanced Strategies and Policy, Microsoft Corporation
N - Myklebust, Egil - Chairman, Norsk Hydro ASA
D - Naas, Matthias - Deputy Editor, Die Zeit
NL - Netherlands, H.M. the Queen of the [Queen Beatrix - Royal Dutch Shell]
PL - Olechowski, Andrzej - Leader, Civic Platform
FIN - Ollila, Jorma - Chairman of the Board and CEO, Nokia Corporation
INT - Padoa-Schioppa, Thomasso - Member of the Executive Board, European Central Bank
I - Panara, Marco - Journalist, La Republica
I - Passera, Corrado - Managing Director, Banca IntesaBCI
USA - Perkovich, George - Vice President for Studies, Carnegie Endowment for International Peace
USA - Perle, Richard N. - Member, Defense Policy Board ; Resident Fellow, American Enterprise Institute (AEI) for Public Policy Research; member Project for a New American Century (PNAC)
B - Philippe, H.R.H. Prince - Crown Prince of Belgium
I - Poli, Roberto - Chairman, Eni S.p.A.
F - Ranque, Denis - Chairman and CEO, Thales Aerospace and Defence
DK - Rasmussen, Anders Fogh - Prime Minister
CDN - Reisman, Heather - President and CEO, Indigo Books & Music Inc.
F - Riboud, Franck - Chairman and CEO, Danone Foods
CH - Ringier, Michael - CEO, Ringier AG
USA - Rockefeller, David - Member, J.P. Morgan International Council
P - Rodrigues, Eduardo Ferro - Leader of the Socialist Party; Member of Parliament
E - Rodriguez Inciarte, Matias - Executive Vice Chairman, Banco Santander Central Hispano
F - Roy, Olivier - Senior Researcher, CNRS
USA - Ruggie, John - Director, Center for Business and Government, Kennedy School of Government, Harvard University
NL - Ruys, Anthony - Chairman of the Board, Heineken N.V.
TR - Sanberk, Özdem - Director, Turkish Economic and Social Studies Foundation
I - Scaroni, Paolo - Managing Director, Enel S.p.A.
D - Schäuble, Wolfgang - Deputy Parliamentary Leader, CDU/CSU Group
D - Schily, Otto - Minister of the Interior
A - Scholten, Rudolf - Member of the Board of Executive Directors, Oesterreichische Kontrollbank AG
D - Schrempp, Jurgen E - Chairman of the Board of Management, Daimler Chrysler AG
INT - Schwab, Klaus - President, World Economic Forum
DK - Seidenfaden, Toger - Editor in Chief, Politiken
RUS - Shevtsova, Lilia - Senior Associate, Carnegie Endowment for International Peace
E - Spain, H.M. the Queen of [King Juan Carlos (see photo) arrived with the queen, but he is not on this list]
USA - Steinberg, James B. - Vice President and Director, Foreign Policy Studies Program, The Brookings Institution
CDN - Steyn, Mark - Journalist for various publications
IRL - Sutherland, Peter D. - Chairman and Managing Director, Goldman Sachs International; Chairman, BP Amoco
USA - Thornton, John L. - President and CEO, Goldman Sachs Group, Inc.
F - Trichet, Jean Claude - Governor, Banque de France
GR - Tsoukalis, Loukas - Professor, University of Athens; President Hellenic Foundation for European and Foreign Policy
A - Trumpel-Gugerell, Gertrude - Vice Governor, Central Bank of Austria
CH - Vasella, Daniel L. - Chairman and CEO, Novartis AG
NL - Veer, Jeroen van der - President, Royal Dutch Petroleum Company; Vice Chairman of the Committee of Managing Directors of Royal Dutch/Shell Group of Companies
F - Villin, Philippe - Vice Chairman, Lehman Brothers Europe
NL - Vries, Klaas de - Member of Parliament (Labour); Former Minister of the Interior
FIN - Whalroos, Björn - President and CEO, Sampo plc.
S - Wallenberg, Jacob - Chairman of the Board, Skandinavivska Enskilda Banken
GB - Williams, Gareth - Leader of the House of Lords
GB - Wolf, Martin H. - Associate Editor/Economics Commentator, The Financial Times
USA/INT - Wolfensohn, James D. - President, The World Bank
USA - Wolfowitz, Paul - Deputy Secretary of Defense, US Department of Defense
USA - Zakaria, Fareed - Editor, Newsweek International
USA - Zoellick, Robert - Principal Trade Adviser to the President
D - Zumwinkel, Klaus - Chairman, Deutsche Post Worldnet AG
Rapporteurs
GB - Micklethwait, R. John - United States Editor, The Economist
GB - Rachman, Gideon - Brussels Correspondent, The Economist
comments
* It is interesting to note that Alexandre Adler is a 2003 Bilderberger. He is also a freemason and political commentator. He broadcasts about history, historical reviews, books. Do the Bilderbergers want to write an history of their own, the 'official' version? Adler is certainly their spokesman. He wrote a messianic book on the 9/11 attacks titled "J'ai vu finir le monde ancien" ("I saw the old world ending"). Does this means the rise of the New World Order?
** Pierre Lellouche is one of the few French politicians who supported the war against Iraq, while Chirac opposed Bush. Chirac's government is under-represented in this list.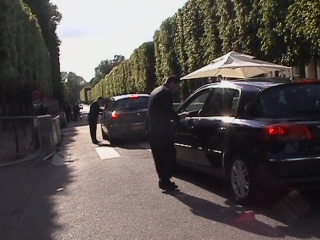 VERSAILLES, 10:00, Sat 17May03, Tony Gosling:
Queen Beatrix of the Netherlands, Queen Sofia and King Juan-Carlos of Spain, Paavo Lipponen (former Prime Minister of Finland), Henry Kissinger, Kenneth Clarke and Richard Perle have all been positively identified among the guests arriving at Versailles' Trianon Park hotel for this years exclusive and secret Bilderberg meeting. Bilderberg is made up of central bankers, press barons, government ministers, prime ministers and royalty, the most powerful people in the western world, and always takes place close to the G8 meeting one or two weeks before it.
The five star hotel, next door to the palace of Versailles and one of the most exclusive in Paris, is surrounded by two tight cordons of french riot police, the infamous CRS. Amongst the various guests, taken from the NATO and EU countries, Perle is a particularly controversial figure - remaining a member of the U.S. defence policy board who pushed for the Iraq war his companies are likely to profit directly from the so-called 'war on terrorism'. As a key architect of the illegal Iraq war the invasion will add to his private fortune (see Commondreams and Seymore Hersh's New Yorker article). Colin Powell is expected to deliver a report to the conference today (Saturday) on his way back home from Germany and the Middle East.
The hotel has been cordoned off and is impossible to see. Friendly staff say windows have been blacked out to stop photographers who get inside the riot barriers from snapping secret guests inside. The conference agenda is supposed to be secret but leaks strongly indicate management of the Iraq and Palestine invasions as well as a final push for a European Army are top of the list this year. Any 'consensus' reached inside is an artificial one because so many of the guests are elitists and have much to lose by sharing their wealth and power with ordinary people. Conference organisers are available on the hotel telephone line and will be able to fax out an agenda and list of participants from Sunday afternoon.
Despite the ultra high-powered businessmen and royalty in attendance, no journalists from any media outlet controlled by Bildererg multinational bosses such as Rupert Murdoch and Conrad Black are covering it. BBC Radio 4 are making a documentary for broadcast on Thursday 3rd July and independent journalists from Iceland, Norway and Turkey too. Journalists from London magazine, The Economist, are inside Bilderberg every year but since one curious 'mistake' in the 1980's never mention the conference in their pages.
The anti-globalisation French daily newspaper, 'Liberation', says it might cover the Bilderberg conference in a few weeks time. Many journalists are afraid of the power the Bilderbergers wield and believe lies accusing key Bilderberg investigative journalists American Free Press of being neo-nazis. In fact Bilderberg conferences were started in 1954 by Queen Beatrix's father, Prince Bernhard of the Netherlands. He was a card-carrying member of Hitler's SS under the Nazi regime.
The organisers refuse to allow any participant lists out until after the conference has finished and feed lies to the handful of journalists about who is inside.
I shall attempt to distribute the Bilderberg press release on PEPIS - along with a description of the agenda when/if I get it.
As for Henry Kissinger's possible arrest in France (remember the hotel incident?) - it now appears that the French lawyer who was after him for answers about the Chile coup in 1973 has received replies from the U.S. state department. It is not known whether or not these replies were deemed sufficient.
---
Lunatic Fringe: Personal Stories of a Bilderberg hunter
Bilderberg 2003: The mysterious emissaries and a veiled warning
http://www.onlinejournal.com/Special_Reports/070605Estulin/070605estulin.html
By Daniel Estulin - Online Journal Contributing Writer
Editor's Note: Daniel Estulin and his family were expelled from the Soviet Union on March 23, 1980, for anti-Soviet activity. His father, a prominent scientist and a dissident, spent 3½ years in prison for seeking freedom of speech for his fellow citizens. Fearing for his life for his daring exposes of corruption, manipulation and power grabbing, Estulin has voluntarily exiled himself to Spain. His dramatic personal stories are a rare look behind the scenes at how the most powerful secret society in the world has tried to stop one of the most determined men in the world from discovering its secrets.
July 6, 2005-"I would like to speak to you." I instinctively turned to my right, except that there was no one there. The gentleman who was seeking the pleasure of my company stood slightly behind me, as if using my right shoulder as a temporary refuge. "Stay seated, please," hissed his shadow, noisily letting his breath out.
"You would please pardon me, dear sirs, but I am not accustomed to being told what to do, especially since your company has not been sought," I brazenly replied.
"Mr. Estulin, we are sorry to intrude into your space but we would very much like to speak to you," said the first gentleman, extending a flaccid hand in the hope I might chose to shake it. "Needless to say, we ask your maximum discretion."
I could tell from his linguistic pirouettes that he learned his English in one of those posh British institutions or from a private tutor, one of these fake literati who could not extricate himself from clumsy errors of syntax.
"How do you know my name? I don't remember offering it to you."
"We know quite a bit about you, Mr. Estulin."
I could tell that the mysterious gentleman was beginning to feel more relaxed in my company.
"Please have a seat," I said, noting privately that I, too, was beginning to loosen up.
He lowered his gaze, automatically fishing out his cigarette case out of the breast pocket of his well-cut jacket, and began to examine it.
I sat on my bar stool waiting for one of them to break the silence.
"For example, we know you are here to cover the Bilderberg conference. That you have been following us around for many years. That somehow, you seem to know the exact location of every meeting, even though most of the attendees do not find out the where it will be held until a week prior to the conference. That as much as we have tried to cover our tracks and to take all the necessary precautions, you seem to know what we discuss and most of our future plans.
"Our choice of some of the attendees has even been influenced by your meddling, Mr Estulin. At one point we had thought that we had you found out. That a certain member not invited to the conference was your inside contact. And that were you to be wrong in your post-conference predictions, the unsuspecting member could have suffered great, personal consequences. Fortunately for him, you were spot on."
"Kent accent," I thought.
"How do you know all this stuff?" asked the not too intelligent second fiddle.
"It is a professional secret," was my turn to reply laconically.
I looked the man over. The second fiddle was broad-shouldered, had yellow hair, cropped moustache, huge arching eyebrows, a diminutive mouth that folded itself into a geometrically acceptable smile and a high-strung temperament. His coarse moustache and fat nose, would twitch tensely every time it was my turn to speak.
Behind us, forming part of an incomprehensible mass of a barely audible group of Welch tourists sat a hunchbacked, bearded man, wearing leather gloves and a travelling cap, known to be a lover of music (that's what the fat lady with an oversized mole on her chin was telling everyone in a hushed tone).
"You are quite an enigma, sir." My mysterious no name speaker repositioned his spindly legs, inserted his right hand into trouser pocket letting the divergent coat flaps reveal the watch chain across the waistcoat and said with a businesslike tone, "Now, then," and, with a glance at the restless fingers of his companion, began to speak in a quiet, yet firm tone.
"Why do you follow us around? You don't work for any newspaper of renown. You write articles that make our members uncomfortable. Several congressmen in America and members of Parliament in Canada were forced to cancel their presence at our annual meeting when you named them as invited guests."
"You can't win," hissed the second fiddle.
"Bilderberg Group, Mr. Estulin, is a private forum where off-the-record friendly discussion takes place amongst influential members of the business community. Politicians are invited to share their personal and professional experiences with the group. All this is done with the hope that these types of forums can bridge the gap between the high stakes politics and the greater needs of the world's peoples. In no way, do we try to influence governments´ policy or decision making."
"Bullshit!!!" I snapped. I could feel my neck muscles swelling, my widespread fingers tensed. The first violin emitted a faint grunt.
"I suppose Kennedy was killed by extraterrestrials, that Nixon was pushed out of office by your grandmother, that the 1973 oil crisis was the fault of Winnie-the-Pooh. Had it not been for our effort, Canada by now would have become part of the Greater United States. Why did you people kill Aldo Moro?"
"You know we can't tell you anything, Mr. Estulin. I did not come to argue with you, sir."
At a round table by the window, two German tourists, an unemployed man with pink-rimmed watery eyes, and the bartender's first cousin played cards with great gusto.
At an adjacent table, there sat a flabby, bald elderly myopic man with an oversized grey suit and enormous horn-rimmed glasses, a permanent shadow cast on his florid face by a black beard that had once been permitted to grow for a long time, and a greyish moustache, carelessly clipped. He ordered rum, filled his pipe, and gazed at the game absent-mindedly.
Punctually at 11:45, he knocked out his pipe, stuffed it into his pants pocket, paid for the rum and silently left.
"Would it be too much to ask of you if we spoke off the record?"
"I don't usually speak off the record, especially where Bilderberg is concerned. You are free to relay what I said to David [Rockefeller], Henry [Kissinger] or that repulsive, Americanised French Canadian woman who whores for one of Rockefeller's numerous foundations." I found myself enjoying the confrontation hoping to force the first fiddle into losing his temper.
The first fiddle rattled on for a few minutes about the virtues of partnerships, collaboration amongst nations, starving children in Africa and other mind-boggling stuff.
I tried to concentrate on listening, but soon caught myself watching the second fiddle's face. His either smiled vacantly or licked his moustache.
When the sounds of the first fiddle grew into insistent thunder, I snapped back to reality.
"We can really make it worth your while, Mr. Estulin. What conditions would you wish to impose?"
A huge moon burned through the trees. The street lights blinked along. You could make out faint sounds of overcrowded restaurants in the distance, and the barking of dogs. The three of us remained silent for several minutes.
I could tell the second fiddle felt embarrassed to keep silent while awkwardly sitting on the edge of the bar stool. No doubt he was trying to invent an intelligent question or a sound remark.
The unknown middle-aged gentleman materialised from the corridor, got down the stairs, paused, then paused again, lost in thought. His walk had the solidity characteristic of short-legged people. A moment later a man disappeared into the night, pushing his way through a revolving door.
The first fiddle fingered the cigarette, gently stroking it, biting his lower lip and pondering something. His eyes did not really look at the cigarette but into the distance.
"As a condition for my silence, I would like all future Bilderberg meetings to be publicly announced with free and unimpeded access granted to any journalist who wishes to attend. All conferences are to be on-the-record, the list of attendees to be released to the public in advance of the event. No CIA, guns, dogs, private security and, most of all, NO SECRECY!"
"You know we can't do that, Mr. Estulin. The stakes are too high and it is very late in the game."
"Then, sir," I replied, "you will just have to put up with me until the referee blows the final whistle."
From the drawing room came a rapid succession of piano notes, loud talk, and laughter and the exclamation of children. The first fiddle's reflection in the sitting room mirror did up the velvet buttons of a reflected waistcoat.
"Good evening, Mr. Estulin." The first fiddle not for a moment lost his manners. His delicacy indeed, was outstanding.
"That's why they must have sent him," I thought. Perhaps, under different set of circumstances we might even have become friends.
The second fiddle, the proverbial comic relief, drew in air and quickly let it out again. He doffed his hat and, holding it with both hands in front of him, walked out in step with his boss.
The only other people in the hotel lobby were two women with sleepy, drooping faces, and a travelling salesman, with a dyed beard, wearing a sleeveless vest of black velvet over a heavily abused white monogrammed dress shirt.
"How strange that his knees should be trembling," I thought. This was really a shattering experience. Only then, did I realise how much was at stake. That this was no mere conversation between their emissary and me. The two men crossed the square and disappeared into the night. What a dreadful feeling of uneasiness. I had remained as determined and as invulnerable as I had been in the past. And nevertheless, I knew that from now on, my life was to be permanently in danger.
The above took place at the Trianon Park Hotel in Versailles, France, at the time of the 2003 Bilderberg meeting (15-18 May).
Daniel Estulin is an award-winning investigative journalist who has been researching the Bilderbergers for over 13 years. Estulin was one of only two journalists in the world who witnessed and reported (from beyond the heavily guarded perimeter) the super secret meeting at the Dorint Sofitel Seehotel in Rottach-Egern, Munich, Bavaria, Germany, on May 5-8, 2005. He can be reached at d.estulin@ctconsultoria.com.
http://www.onlinejournal.com/Special_Reports/070605Estulin/070605estulin.html
---
* Queen Beatrix is a central figure at Bilderberg meetings though she sometimes fails to appear on the lists of attendees
---
Friendship and Business Blur in the World of a Media Baron
By JACQUES STEINBERG and GERALDINE FABRIKANT
New York Times - Published: December 22, 2003
On the dust jacket of his recently published biography of Franklin D. Roosevelt, Conrad M. Black, the embattled media magnate, collected laudatory blurbs from an impressive set of conservative thinkers.
Henry A. Kissinger writes, "No biography of Roosevelt is more thoughtful and readable." The columnist George F. Will calls the book a "delight to read." And William F. Buckley Jr. commends the biography as "a learned volume on F.D.R. by a vital critical mind."
What the blurbs did not mention was that each man was praising the work of a sometime boss. During the 1990's, Lord Black had appointed all three to an informal international board of advisers of Hollinger International, the newspaper company he controlled. For showing up once a year with Lord Black to debate the world's problems, each was typically paid about $25,000 annually (until the board was disbanded in 2001).
The advisory board was one example of how friendships with the rich and often politically influential overlapped with business in Lord Black's world. The board became a who's who of mostly conservative thinkers and politicians that included Margaret Thatcher, Valéry Giscard d'Estaing, Zbigniew Brzezinski, Richard N. Perle, and the former head of Archer Daniels Midland, Dwayne O. Andreas.
Lord Black enjoyed more than just conversation from the advisers Hollinger paid for. Mr. Will and Mr. Buckley have since written positively about Lord Black in their columns, though without mentioning their business dealings. And three other members of the advisory board also joined Hollinger's board as directors.
But now, as Lord Black and Hollinger face inquiries by the Securities and Exchange Commission and the Justice Department into more than $200 million that he and his top executives collected, these interlocking relationships may come to haunt not only Lord Black but the directors who oversaw the company while these payments were being made. In some cases, the directors had themselves accepted additional payments from the company.
Lord Black, who is scheduled to testify before the S.E.C. today, has been advised by his lawyers to invoke the Fifth Amendment right against self-incrimination because they think he has not had time to review all the documents related to the current issues, according to people with knowledge of the discussions.
The seemingly porous boundary among Lord Black's social, political and business lives, which was reflected in the composition of the Hollinger board, has been thrown into relief by the investigation. In the 1990's, Mr. Kissinger, Mr. Perle and Mr. Andreas all served as directors at times when they were also getting paid (by the company) for their advice to Lord Black. Lord Black, as well as Mr. Kissinger, Mr. Perle and Mr. Andreas, last week declined requests for interviews.
A closer look at the members of Lord Black's inner circle sheds light not just on board oversight but also on how he managed to transform himself as Hollinger grew from an obscure Canadian company that owned mines and supermarkets into the owner of more than 100 daily newspapers, including The Daily Telegraph in London, The Jerusalem Post and The Chicago Sun-Times.
In the process, Lord Black became a throwback press baron who lived lavishly on Park Avenue, in Palm Beach and in London and was at ease in the most prominent salons in the world. His annual Hollinger Dinner attracted the likes of Ronald Reagan and Richard M. Nixon.
"I think Conrad did these things less for the bottom line than to create the aura that group gave him," said Peter Munk, the founder and chairman of Barrick Gold, and someone who briefly served on an earlier incarnation of the Hollinger board before resigning in the mid-1990's. "He reveled in that aura."
Mr. Brzezinski, who was national security adviser in the Carter administration, said he first met Lord Black perhaps four decades ago at one of several international conferences that they frequented. One is known as Bilderberg Group, a conclave of business and political leaders from North America and Europe that meets each year for discussions that are off the record.
"He's an extremely intelligent guy, very well read," Mr. Brzezinski said.
In the early 1990's, Lord Black decided to form a miniature Bilderberg of his own by creating a board to advise Hollinger on international affairs, according to "Shades of Black," a biography by Richard Siklos, a former reporter for Business Week and The Financial Post, a Toronto business newspaper.
In its earliest incarnations, the advisory board included Mr. Kissinger, Mr. Perle and Mr. Brzezinski, as well as Paul A. Volcker, the former head of the Federal Reserve; Chaim Herzog, the former president of Israel, who died in 1997; and Lady Thatcher, Mr. Siklos wrote. They were joined by others, including Mr. Will and Mr. Buckley.
Though Lord Black frequently found room for liberals on his list of dinner guests, the members of the advisory panel usually shared his conservative views.
At the advisory meetings, each participant would be assigned a topic. At times, given the weight of expertise in the room, the conversations extended to a second day.
"For quite a while, Mrs. Thatcher would participate," Mr. Brzezinski said. "I was one of those people who suggested to Conrad that it wasn't productive to hear her speak at such length."
Lady Thatcher did not respond to messages left for her at her foundation in Britain.
---
Finnish ex-prime minister charged
http://news.bbc.co.uk/1/hi/world/europe/3334909.stm
19Dec03 - BBC
The first female prime minister of Finland has been charged with inciting or assisting a former presidential aide to leak official secrets.
Anneli Jaatteenmaki stepped down in June after 63 days in office, in a row over information she used in the election campaign to attack her rival.
She claimed that Paavo Lipponen, the then prime minister, undermined Finnish neutrality by backing the Iraq war.
She denies having asked for the secret documents which backed up her claims.
At the time the documents backing her claim were published on her website. Some appeared later in local tabloids.
Finland's top prosecutor also charged presidential aide Martti Manninen with leaking official secrets on Friday.
He is alleged to have given them to Ms Jaatteenmaki. They could face up to two years in prison if they are found guilty.
The ex-prime minister issued a brief statement saying she was "disappointed" but did not oppose a public trial.
"In my own opinion, during the preliminary investigations I have shown that I am not guilty of punishable behaviour," she said.
The trial will open in Helsinki in February.
http://news.bbc.co.uk/1/hi/world/europe/3334909.stm
---
Pentagon bankers may bail out Black
'Ex-Presidents Club' ready to throw lifeline to embattled Telegraph owner - but what has Conrad had to promise in exchange?
Jamie Doward and Jessica Hodgson
The Observer - Sunday November 23, 2003
http://politics.guardian.co.uk/media/story/0,12123,1091628,00.html
A powerful banking group with close links to the Pentagon, which has also invested money on behalf of the Bin Laden family, is in talks to bail out beleaguered Daily Telegraph owner Conrad Black.
The revelation suggests that Britain's bestselling broadsheet - coveted by rival newspaper barons because of its political influence - may not go under the hammer after all, as Lord Black tries to quell a shareholder rebellion in the face of allegations that he and several acolytes pocketed millions of dollars that was not theirs to take.
Daily Express owner Richard Desmond and the Daily Mail & General Trust, which owns the Daily Mail, are keen to buy the Telegraph titles, despite the fact that questions over the concentration of media ownership would be raised.
The Carlyle Group, known as the Ex-Presidents Club because of the number of former world leaders it employs, is considering taking a stake in Hollinger International, which owns the Telegraph titles, the Jerusalem Post and the Chicago Sun-Times, according to those close to the firm.
'It's unusual for a group of assets to come to the market like this. We would look to sell off the Jerusalem Post and Hollinger's stake in the New York Sun. Conrad [Black] would have to step out of management, but that does not mean he would have to let go of his equity stake,' said a Carlyle source. 'Ideally, we would look to take a 25-40 per cent stake. That would allow us to put people on the board,' the source added.
The move would represent a coup for Black, who is desperate not to sell the Telegraph titles, which have given him considerable influence within British politics and earned him a close friendship with Margaret Thatcher.
Carlyle, - which employs former Prime Minister John Major as a director, boasts George Bush Snr and his Secretary of State, James Baker, as advisers, and is headed by Frank Carlucci, Ronald Reagan's Defence Secretary - has invested in media firms previously. The group once owned 40 per cent of France's Le Figaro, and more recently acquired part of French conglomerate Vivendi's publishing assets.
It also part-owns Qinetiq, the Government's privatised defence research laboratories, and CSX Lines, a logistics firm that specialises in shipping heavy equipment for the military. In the past, Carlyle has owned Vinnell, a company that trained the Saudi army.
If Carlyle - which, despite being only 15 years old, manages more than $14 billion in funds on behalf of investors such as George Soros and the Bin Laden family (who are estranged from their son Osama) - does take a stake in Hollinger, questions are bound to be asked over the links between the two firms, both of which have powerful links to the military.
Leading foreign policy hawks Richard Perle and Henry Kissinger sit on the Hollinger board. Black himself is a member of the secretive Bilderberg group, an organisation comprising the world's leading businessmen and politicians, which some have accused of being an alternative world government.
In a separate move, it has emerged that Wall Street fund manager Tweedy Browne will take legal action against the Hollinger board if it is not satisfied with the company's actions.
Shareholders are angry that tens of millions of dollars that Black and fellow directors took in 'non-compete' fees did not go to Hollinger.
'I want to know how this board came to pay out a red cent to these people,' said Tweedy Browne analyst Laura Jeresky.
Hollinger is the subject of an inquiry by the US Securities and Exchange Commission. Investigators are keen to understand the company's relationship with Ravelston Corporation, which is privately owned by Black and has been the beneficiary of millions of dollars which shareholders say should be returned to them.
Toronto-based Ravelston pays millions of dollars in management fees to Ravelston Management Inc (RMI). There are suggestions that RMI may be based in a tax haven. Hollinger spokesman Paul Healy declined to comment.
http://politics.guardian.co.uk/media/story/0,12123,1091628,00.html
http://www.timesonline.co.uk/article/0,,2-898880,00.html
http://politics.guardian.co.uk/media/story/0,12123,1091628,00.html
http://www.forbes.com/home_europe/newswire/2003/11/26/rtr1160844.html
http://www.thestar.com/NASApp/cs/ContentServer?pagename=thestar/Layout/Article_Type1&call_pageid=971358637177&c=Article&cid=1069456208752
http://media.guardian.co.uk/diary/0,11503,355024,00.html
http://www.albawaba.com/news/index.php3?sid=264755&lang=e&dir=news
---
Another Bilderberger chosen to head NATO in 2004
Currently he is minister of foreign affairs in the Netherlands. He recently visited George Bush together with prime minister/Harry Potter look-a-like Balkenende. De Hoop-Scheffer is very much on the American side.
In Holland he is nicknamed 'Hoopschepper' or 'shitdigger'.
De Hoop Scheffer ready for NATO turbulence
Mon 22 September, 2003 15:26 BST
http://www.reuters.co.uk/newsPackageArticle.jhtml?type=topNews&storyID=376518&section=news
Dutch foreign minister to become NATO secretary- general
By Paul Gallagher
AMSTERDAM (Reuters) - Dutch Foreign Minister Jaap de Hoop Scheffer likes to sit in the cockpit when his government jet hurtles towards take-off. But the ex-airforce officer could be in for a bumpy ride when he takes the controls at NATO.
A spokesman for the military alliance said on Monday that De Hoop Scheffer had become NATO Secretary-General designate and would take over from George Robertson in three months.
The Dutchman, who flew military cargo planes in his youth, will need all his powers of persuasion to rebuild transatlantic relations damaged by a row between the United States and France and Germany over the U.S.-led war in Iraq.
The stocky 55-year-old, a career diplomat who has served as foreign minister in two centre-right coalitions, has earned a reputation as a quiet but purposeful bridge-builder eager to restore harmony across the Atlantic.
"He's been very strongly a transatlanticist, but if anyone from the transatlantic camp would be good at building bridges with France, he would," one diplomatic source told Reuters.
De Hoop Scheffer will be the third secretary general of NATO from the Netherlands, a small country with a weighty tradition in the alliance.
He follows in the footsteps of compatriots Dirk Stikker and Joseph Luns, who headed the North Atlantic Treaty Organisation during the Cold War in 1961-64 and 1971-84 respectively.
De Hoop Scheffer also continues a family tradition. His uncle was the Dutch permanent representative at NATO during the Luns era.
A former marathon runner who still likes jogging, De Hoop Scheffer likes to go to his local Catholic church on Sunday and has maintained an interest in flying dating from his military service in the Royal Netherlands Air Force from 1974 to 1976.
"He likes planes. Sometimes he sits in the cockpit. He likes sitting in the cockpit for take-off and landing," a government insider said.
FOOT IN BOTH CAMPS
De Hoop Scheffer, who is married to a French teacher and has two daughters, is likely to benefit from warm relations with the White House and his rapport with French and German colleagues thanks to his fluency in both languages.
He was welcomed with open arms in the White House earlier this year for lending Dutch political support to the U.S-led war to oust Saddam Hussein but is equally comfortable reading French daily Le Monde on his regular holidays in France.
On first-name terms with U.S. Secretary of State Colin Powell, he is also reportedly at ease discussing world affairs in French with France's Foreign Minister Dominique de Villepin.
The Netherlands walked a tightrope during the Iraq war by choosing a position of political but not military support for the forces that ousted Saddam Hussein.
"(De Hoop Scheffer) has closely followed the American line, in my political view too much so. I think he went too far. He is a very suitable candidate for the Americans," said Dutch Labour opposition foreign affairs spokesman Bert Koenders.
"I think that is a bit counterbalanced by the fact we (the Netherlands) did not support the war in a military sense but only politically. I think he is still acceptable to the Germans, the French and the Belgians."
De Hoop Scheffer, who studied law at Leiden University, embarked on a diplomatic career as a secretary in the Dutch embassy in Ghana after his two years in the airforce.
He gained an early insight into life in NATO's headquarters when he went to Brussels as a member of the permanent Dutch delegation between 1978 and 1980. He then moved on to become private secretary at the Dutch Foreign Ministry until 1986.
His first foray into full-time politics came in 1986 when he entered parliament for the Christian Democrats (CDA) and went on to lead the parliamentary party from 1997 to 2001.
In July 2002, De Hoop Scheffer became foreign minister in the CDA's short-lived coalition with the VVD liberals and the anti-immigration party of murdered populist Pim Fortuyn. He returned to the post in a second CDA-led government with the VVD in May 2003.
Those who know him describe him as witty and a good mimic, and say he is pragmatic rather than dogmatic.
"In the diplomatic career he has had, he's always been very popular and much-liked," said a diplomatic source. "But he has a crisp tongue and is capable of being vigorous when he needs to be."
http://www.reuters.co.uk/newsPackageArticle.jhtml?type=topNews&storyID=376518&section=news
How NATO froze out John Manley
By DREW FAGAN
From Tuesday's Globe and Mail
http://www.theglobeandmail.com/servlet/story/RTGAM.20030923.unato0923/BNStory/Front/
As recently as 10 days ago, Deputy Prime Minister John Manley still hoped his candidacy for NATO's top political job might yet win, although the odds of overcoming more than 50 years of transatlantic history were growing even longer.
France, Germany, Italy and Spain had not formally tipped their hands, delaying agreement among the 19 allies over who would become the military alliance's next secretary-general. But, one after another, all but one of the four quietly threw their support behind Jaap de Hoop Scheffer, the Dutch Foreign Minister.
By late last week, only France and Canada were not backing Mr. de Hoop Scheffer; France because it was nervous about the centre-right politician's military perspective, and Canada because it was still behind Mr. Manley.
There was little point in prolonging the inevitable. Paris and Ottawa fell in line on the weekend, maintaining two traditions that have held since the North Atlantic Treaty Organization was formed in 1949: That the secretary-general is chosen by consensus, and that the post is held by a European.
Yesterday, Mr. Manley made light of his circumstances. Shortly after Mr. de Hoop Scheffer's appointment was made official and Paul Martin met the press in Ottawa for the first time since clinching the Liberal leadership race from which Mr. Manley withdrew last summer, he joked that he was open to job offers. Then he emphasized that he has much to keep him busy in the weeks ahead -- including presenting an economic update to Parliament and meeting U.S. Homeland Security Secretary Tom Ridge next month.
"I think I have to focus on my responsibilities for the time being, which are plentiful and interesting and more than enough to keep me happy," Mr. Manley said from Dubai, after meetings of G7 finance ministers.
A Canadian official yesterday compared the weeks-long process of choosing NATO's new leader to a ritualistic "dance around the fire." Three other European cabinet ministers had withdrawn -- to the degree that their candidacies were ever official -- before the focus fell on Mr. de Hoop Scheffer and Mr. Manley. Even then, there was no formal vote; just a process of judging the sentiment of the 19 member-countries, led by the dean of NATO's diplomatic corps, until sentiment coalesced around Mr. de Hoop Scheffer.
"I must say, and this will sound harsh, that in the end it seemed like a lowest-common-denominator approach," the Canadian official said. "He was acceptable."
Canadian officials had emphasized for some time that Mr. Manley was the dark-horse candidate for the job. His chances depended on European countries failing to reach a consensus among themselves on a person from that continent, which might have induced dissenters and the United States to buck history and back Mr. Manley. But the United States was loath to intervene, given its need to win European support regarding Iraq.
The quiet lobbying on Mr. Manley's behalf has not been a waste of time, nor has Ottawa expended political capital foolishly on his behalf, Canadian officials insisted yesterday. If anything, they expressed some frustration. Another official said the effort was worthwhile because it highlighted the unfairness of the NATO structure, in which traditionally the secretary-general is a European and the supreme allied commander, NATO's top military job, is a U.S. general. "We're frozen out," the official said.
Mr. de Hoop Scheffer, 55, is to replace Britain's Lord Robertson, whose four-year term ends on Jan. 1. The Dutchman showed diplomatic skills earlier this year during the debate over Iraq as his government supported the U.S.-led war but avoided antagonizing European opponents of the military effort to oust Saddam Hussein.
"He has an excellent perception of the different sensibilities on both sides of the Atlantic," Belgian Foreign Minister Louis Michel said.
Mr. de Hoop Scheffer was a diplomat to the Dutch mission to NATO from 1978 to 1980 and served as personal secretary to four Dutch foreign ministers after his election to parliament in 1986. He became leader of the Christian Democratic party, but stepped down before the 2002 election.
He supports NATO's drive to reinvent itself for the global war against terrorism, ditching its Cold War focus on territorial defence in Europe. In June, he surprised colleagues by suggesting the alliance could take on Middle East peacekeeping if Israel and the Palestinians reach a truce.
http://www.theglobeandmail.com/servlet/story/RTGAM.20030923.unato0923/BNStory/Front/
---
Lindh factor not enough to change minds
Bilderberger Anna Lindh murdered
http://www.guardian.co.uk/euro/story/0,11306,1042262,00.html
Pro-euro hopes that sympathy would influence Swedish vote proves in vain as search goes on for killer
Ian Black in Stockholm and Andrew Osborn
Monday September 15, 2003 The Guardian
The day began with brilliant autumn sunshine, but the murder of Anna Lindh was still casting long shadows over Sweden's historic and closely watched euro referendum yesterday. And in the end, the "Lindh factor" was not nearly enough for the pro- euro camp to carry the day.
Some had hoped that sympathy for the feisty pro-euro campaigner could tip the balance in favour of a yes vote, especially among many undecided women voters thought susceptible to persuasion by the highly articulate foreign minister.
But it appeared that voters had made their mind up before her death, or that those who had not went, in the end, for the status quo.
"I'm voting yes," said a woman called Sofia, selling tickets for a boat trip around Stockholm's 14 islands. "I had already decided, and I don't think many will change their minds because of her death."
Shock and grief over Ms Lindh's murder - with its echoes of the still unsolved killing of the prime minister Olaf Palme in 1986 - show no sign of abating. Outside the NK department store where she was attacked, people queued to sign the condolence book minutes after polling stations opened.
The now wilting roses, sunflowers and lilies piled at NK's front door have become a small mountain, interspersed with notes, in Swedish and many other languages, cuddly toys, and little heaps of dried wax where memorial candles have melted onto the pavement.
"Gandhi, Kennedy, Allende, Martin Luther King, Olof Palme, Anna Lindh: they cannot be replaced," said one neatly handwritten letter. "Democracy cannot allow its leaders to be murdered one by one."
The police investigation into Ms Lindh's death last week has made no clear breakthrough, although police say they have received thousands of tip-offs from the public and are checking the movements of some 10 known criminals.
Although newspapers have already published a CCTV image of a man the police believe may be the killer, his identity remains a mystery.
The image, captured in the NK department store where Ms Lindh was stabbed last Wednesday, shows a tall, acne-scarred man of about 30, with dark shoulder-length hair and wearing a blue baseball cap.
Police say that, just a few minutes before the murder, he was browsing on the floor above the ladies' fashion boutique where Ms Lindh was attacked.
Although his appearance matches the description of the murderer given by witnesses, the police are being cautious, saying that he could simply be a key witness. "We would like to have even more help from the public with identifying this man in the picture," said a police spokesman, Mats Nylen, yesterday.
Police believe that the killer may have been following Ms Lindh for some time, waiting for the right moment to strike. "We are continuing to check known criminals and assailants - a group of about 10 people," said a police spokeswoman. "There are a couple of special names we want to check."
The police are combing the country's hostels and homeless shelters for what they describe as "the usual suspects."
Since the CCTV image was published on Saturday, thousands of people have called with tip-offs.
"We have not identified the man in the pictures, but we think we will find him. New tips keep on coming in all the time," the spokeswoman said.
Although the police have recovered the red-handled craftsman's knife used in the attack, as well as the killer's cap and bloodied jacket, all three exhibits have failed to yield a fingerprint.
Forensic scientists are hoping, however, that they may be able to extract DNA sam ples from remnants of skin left behind on the knife handle.
The knife may be sent to Britain for analysis by the forensic science service, which has superior equipment to the crime labs in Sweden, reports said last night.
Stockholm, Gothenburg and Malmo were at the heart of the pro- euro campaign. The no camp is concentrated in the sparsely populated countryside and north. Anti-euro sentiment was especially strong on the border with the euroland member Finland, where opponents highlight the price rises when euro notes and coins were introduced in 2002.
The yes camp - composed of the mainstream political parties, big business and the media - had argued that Sweden needed the growth, jobs and increased trade that only the eurozone could provide.
"It is a very difficult decision, but if we are part of the EU we really should be in it wholeheartedly," said a yes voter, Eva Jarlsdotter, a pharmaceutical company employee, wheeling her month-old daughter along a cobbled alley. "We can't keep up this 'wait and see' attitude and let the others take all the risk."
The anti-euro Greens and the Left party warned that the country's fabled but declining welfare system would be harmed if control over interest rates was surrendered to the European Central Bank in Frankfurt, which they reject as opaque and undemocratic.
"It is the people who have said that democracy comes from below and not from above," declared the Left Party leader Ulla Hoffmann as she savoured victory. "I think this will be an important signal to Europe that the EU must democratise."
Still, there were few in the no camp who were prepared to celebrate victory overtly last night.
As one pro-euro MP put it: "Election day is usually a party day. It feels terrible that a murder has been able to change that."
http://www.guardian.co.uk/euro/story/0,11306,1042262,00.html
There seems to be some CONFUSION about the assassination of Anna Lindh. The media (and a surprising number of "Web.news" "grassroots" sources want to push this into a certain anti-euro category.
Think:
QUESTION 1: How many people have been assassinated because of their view on the euro? ANSWER: None. QUESTION 2: What organizations are well known for their tactics of assassination? ANSWER: The United States and Israel. (Yes, yes... Pinochet et al. - dissappeared thousands... but who was the instigator? ... the US. + THINK: Yes, Palestinians have blown up a lot of people... but they have never been known to TARGET a victim based on their ideology. Keep right on thinking.
So taking the basics into account, the following s at least curious
Walt
______________
http://www.dailystar.com.lb/opinion/20_09_03_d.asp
Bouthaina Shaaban is minister of emigrant affairs in the new Syrian government.She wrote this commentary for THE DAILY STAR, 20 Sept. 2003
[...]
With the assassination of Anna Lindh, the Palestinian cause and the Arabs in general have lost one of the most important voices supporting their legitimate and just demands. A few years ago she was even imprisoned for two days during a visit to the Occupied Territories upon orders from then-Defense Minister Ariel Sharon. She saw in Israel's use of force against the Palestinians, and in America's tacit approval of this, a consecration of the law of the jungle and a subversion of the role of the UN and of international humanitarian law. Lindh might have been the only European foreign minister who called upon the European Union, on April 3, 2002, to sever ties with Israel in protest against Israeli practices.
She called on US President George W. Bush to deny Sharon unconditional support, as this would inflame the Middle East. Last Jan. 29 she emphasized that Sharon's policies displayed no desire for peace. Lindh many times stressed that the only solution in the Middle East rested in ending the Israeli occupation; otherwise everybody would become a hostage to the conflict.
Lindh also played an important role in shaping the EU's decision to adopt a policy toward Palestinian President Yasser Arafat different from that of the US. In January 2002, EU foreign ministers confirmed the importance of Arafat as a partner in the peace process, rejected Washington's claims that he supported terrorism and called the Bush administration's depiction of Arafat as a terrorist "foolish." [...]
In regards to weapons of mass destruction, Lindh called for the
creation of a Middle East free of such weapons, including Israel. [...]
At an EU foreign ministers' meeting in Italy two days before Lindh was murdered, she blamed the US and Israel for the resignation of Palestinian Prime Minister Mahmoud Abbas. Lindh said: "Abbas was given the kiss of death when the US and Israel decided to deal only with him and not with … Arafat." She noted Israel's expansion of settlements, building a wall around Palestinian areas and assassination of Hamas leaders were undermining the peace process.
http://www.dailystar.com.lb/opinion/20_09_03_d.asp
---
09Jul03 - Giant of City hands over reins of control
Sir Evelyn de Rothschild is rightly proud of passing the business in an orderly way to another family member, writes Charles Pretzlik:
http://gateway.proquest.com/openurl?ctx_ver=z39.88-2003&res_id=xri:pqd&rft_val_fmt=ori:fmt:kev:mtx:journal&genre=article&rft_id=xri:pqd:did=000000356418901&svc_dat=xri:pqil:fmt=text&req_dat=xri:pqil:pq_clntid=9477
CHARLES PRETZLIK. Financial Times. London (UK): Jul 9, 2003. pg. 22
Sir Evelyn de Rothschild knows, too, that he leaves his branch of the business, NM Rothschild, in a state that will allow him one day to look his ancestors in the face with confidence.
This has not stopped Sir Evelyn moving in the highest international circles. He has, for example, attended meetings of the Bilderberg Group, a secretive group of leading business and political figures that has fueled numerous conspiracy theories.
Sir Evelyn's academic qualifications are fewer than they appear in Who's Who. There, under education, he lists Harrow and Trinity College, Cambridge, even though he never graduated from the university. He says he can't remember why. "I just didn't."
The significance of Sir Evelyn de Rothschild's decision to give up control of the family bank is not lost on someone as dynastically aware as him.
Aged 71, he is rightly proud of being able to hand over the business in an orderly way to another family member, Baron David, 60.
And he knows that the capital reorganisation that accompanies the handover marks the most significant step in the reunification of the disparate Rothschild interests in two centuries.
Sir Evelyn knows, too, that he leaves his branch of the business, NM Rothschild, in a state that will allow him one day to look his ancestors in the face with confidence.
That there is anything at all to hand over is down to him. It was his determination to keep the bank in family hands that led him to oppose a plan from his cousin, Jacob, to merge the bank with Warburgs in the mid-1970s.
In recent years, the bank has vindicated that decision by consistently ranking in or close to the top five in league tables for European M&A. Nobody should expect Baron David to change the policy on family control.
However, for many of Sir Evelyn's own staff, the change in leadership is not coming a moment too soon.
His irascible tendency and sometimes overbearing manner have bred little affection for him among his bankers, some of whom have nicknamed him Lord . . . of Viagra - in part a reference to the new vigour he has found since last year marrying Lynn Forester, the glamorous American entrepreneur who is 23 years his junior.
The time she needs to spend in the US is believed to be one of the reasons Sir Evelyn is now willing to give up control of the bank.
For all its recent success, NM Rothschild remains small compared with the big Wall Street houses that dominate the market.
But this has not stopped Sir Evelyn moving in the highest international circles. He has, for example, attended meetings of the Bilderberg Group, a secretive group of leading business and political figures that has fueled numerous conspiracy theories.
Yet, despite his surname, his most secure claim on being a giant of the City of London derives more from his impressive frame than from any reputation for moulding modern finance.
Indeed, his cautious temperament has been blamed for the bank's failure to exploit fully the power of its brand name in the private banking market until last year - by which time the prospects for that industry had darkened considerably.
Sir Evelyn's academic qualifications are fewer than they appear in Who's Who. There, under education, he lists Harrow and Trinity College, Cambridge, even though he never graduated from the university. He says he can't remember why. "I just didn't."
For all the clarity of the changes announced yesterday, Sir Evelyn seems reluctant to step aside completely. "I'm not giving up; I'm not retiring or anything," he insists. "Things happen in this world where people are called back."
With Baron David in charge, such circumstances are unlikely. Immensely well-regarded by his peers, the only criticism ever made of him is that he is sometimes too consensual and afraid of confrontation.
However, it is precisely this that has allowed him to coax his distant cousin along to the point at which he is prepared to cede control. And that, many insiders believe, is to the bank's long- term benefit.
http://gateway.proquest.com/openurl?ctx_ver=z39.88-2003&res_id=xri:pqd&rft_val_fmt=ori:fmt:kev:mtx:journal&genre=article&rft_id=xri:pqd:did=000000356418901&svc_dat=xri:pqil:fmt=text&req_dat=xri:pqil:pq_clntid=9477
---
Bilderberg seeks supremo -- lizards need not apply
The Sunday Times - Business
August 03, 2003
http://www.timesonline.co.uk/article/0,,2095-764824,00.html
John O'Donnell
THE world's greatest networking opportunity is about to arise - but the job won't appear in any newspaper advertisements. Bilderberg, the secretive forum for the western elite and holy grail of conspiracy theorists, needs a new leader.
Martin Taylor, chairman of WH Smith and the group's secretary-general, has said he wants to step down, and the process of finding a successor will begin soon.
The group, whose annual meetings gather luminaries such as David Rockefeller and Richard Perle, will find a replacement from its 30-strong steering committee, whose members include Lord Black, owner of The Telegraph newspapers, Kenneth Clarke, the Tory MP, and Henry Kissinger.
Taylor, who last month said he intended to quit WH Smith on health grounds, said he did not expect to leave Bilderberg soon. "It is time for me to get out, but the difficulty is finding someone who is capable and has time to do it," he said. "The people who want to do the job are the ones you don't want. My expectation is that I will find a successor in the next two to three years."
Taylor, who also works as an adviser at Goldman Sachs, did his best to dispel the conspiracy theory that the group is a sinister elite of shape-changing lizards.
He preferred to compare his job with that of chairman of a board of school governors. "I am an amateur conference organiser. It is like being chairman of the golf club."
Taylor said he had done his best to raise the openness of the group, which keeps the minutes of its meetings secret for 50 years.
Bilderberg held its last four-day forum in the grounds of Versailles Palace at the Trianon Palace Hotel.
The ideal candidate for the post will be as much a diplomat as a good party host and will need a thick skin to cope with the "crazies" that stalk members. "Our existence gives them a reason to live," said Taylor.
But, most important of all, the successful applicant will be an insider. "This is a club," he said. "And it needs to be someone who knows the organisation extremely well."
But anyone who hopes to take the job in order to have stories to tell their grandchildren will be disappointed - Taylor is sworn to secrecy on his favourite memories.
http://www.timesonline.co.uk/article/0,,2095-764824,00.html
---
28Jul03 - Cybercampaign to get the minutes of the 2002 Bilderberg meeting from Romano Prodi
COPY OF THE REPORT OF 2002 BILDERBERG MEETING: DOCUMENT: A (2002) 886559 of 26/08/2002

recorded 30/08/2002

Sender: BANCK M./ NL/BILDERBERG MEETINGS

Receiver: PRODI ROMANO/ PRODI

Object: COPY OF REPORT OF THIS YEAR'S BILDERBERG MEETING
This document is in the incoming mail of Romano Prodi, president of the European Commission and member of the Bilderberg's Steering Committee untill 1982.
It's a copy of the report of 2002 Bilderberg Meeting, sent by Maja Banck, Executive Secretary of the Bilderberg Group.
You can find it at http://www.europa.eu.int/comm/commissioners/prodi/regcp/recherche.cfm?CL=en searching the key-word "bilderberg" among the "subjects".
[Due to technical maintenance, the page will be inaccessible from Friday 25 July 2003 18.00 (CET) until Sunday 27 July 2003 24.00 (CET)] ###Let's hope they won't delete that document!!!###
Every european citizen can requests it but, to obtain it, the authorization of both the European Commission and the sender (Maja Banck) are needed.
I tried to request it but they wrote me back that the sender didn't authorize the access to the document.
It could be very important to obtain and publish it, because it would be one the few "official" reports of a recent meeting of this group, achieved from a sure reliable sorce: directly from Bilderbergers themselves...!
When someone receive the first denial, can send a second request, and when the second request is rejected too, can file a petition.
I'm sure that they won't ever send me that document if I'm the only one who requested it.
But if they would receive A LOT OF REQUESTS from the whole Europe, they couldn't overlook that many people wants to know...!!!
And something may happen...
To send the first request you can write to Angela Weaver (Registry of President Prodi Correspondence) at presidentsregister@cec.eu.int specifying your name and address and all the data of the document you're requesting (you can *copy&paste* at the beginning of this text).
For the second request and the petition you'll receive instrunctions in the mail they'll send you.
GOOD CYBERWAR...!!!
--------------------------------------------------------
"Negative answers are not empty failures: they bump off wrong perspetives and add new elements."
Massimo Pierini
---
NATO on the ropes at Bilderberg 2003
More deception from the duo of WMD
Breaking all the rules - July 27, 2003
http://batr.org/gulag/072703.html
Their war puts America in permanent peril
Did you hear that Donald Rumsfeld and Richard Perle attended the last Bilderberg meeting near Versailles? Even if you are a skeptic of the dominance of these elites, one can hardly dismiss their influence. So when there is a rare dispute among their ranks, it would be news. However, reports in the mainstream press about the latest plans of this shrouded collaboration is the only secret that is kept in the rush to scoop the continuous news cycle.
So what is all the fuss about? "Europe's elite were opposed to an American invasion of Iraq since the 2002 Bilderberg meeting in Chantilly, Virginia. Rumsfeld himself had promised them it wouldn't happen. Last week, everybody struck back at Rumsfeld, asking about the infamous "weapons of mass destruction". Most of Europe's elite do not believe American promises that Iraq's oil will "benefit the Iraqi people". They know that revenues from Iraqi oil will be used to rebuild what America has bombed. And the debate is still raging on what kind of contracts which rewarded Bechtel and Halliburton will "benefit" Western Europe."
As illustrated in the The Petro-Dollar and the EURO essay, the precarious stability of the U.S. Dollar as the currency for oil settlement, has most profound effects. Stan Goff in a perceptive analysis - THE INFINITE WAR AND ITS ROOTS - makes the following point: "Should forces hostile to U.S. imperialism (for whatever reason) gain control over the Gulf States and its oil, they would effectively control the lifeblood of the entire global economic system. U.S. hegemony would collapse in an historical instant. Compared to this scenario, Sept. 11 was a walk in the park. And the U.S. ruling class, especially the current petroligarchy administration, knows this."
The distinct deduction from a plunging dollar denominated world dominant economy is a state of continuous war. While the Iraqi colonization is the first stage of a Rumsfeld/ Perle strategy, the European elements of the Bilderberg brotherhood see their interests in very different terms. So much so, that some support proposals for an independent European Union military force.
"It was also extremely hard at the Versailles meeting to forge a consensus on the necessity of a European Union army totally independent of the North Atlantic Treaty Organization (NATO). The US establishment, of course, is against the EU army. But so are some Europeans, starting with anti-army cheerleader Lord Robertson, NATO's secretary general. Europe's elite can't stand US domination of NATO any more. Some Europeans suggest a separate force, but controlled by NATO. Americans argue that a separate EU force would dissolve NATO's role as the UN's world army. And Americans insist that NATO is no longer confined to the defense of Europe: its troops now could go anywhere in the world, directed or not by the UN Security Council. The impasse remains."
This internal conflict is one of the few examples of friction among the clandestine masters of the universe. The source of this strife, largely stems from those elements who maintain an allegiance to a kosher tribal cause and seek to advance their parochial interest, whenever possibile.
Again, Mr Goff nails it: "It is no wonder the capitalists of other regions are raising their eyebrows at the Bush Administration. They surely sense the potential consequences of this administration's wild hubris, its military adventurism, its arrogant abrogation of international treaties, its refusal to submit to international law, and its continued support for the Israeli occupation. Some of these capitalists understand that what is taking shape is the military occupation of the world's major oil fields, in the face of fierce resistance from the masses in those states, and they further understand that this is the best way to ensure permanent loss of access to this critical commodity for good."
When opposing agendas threaten the entire ruling order, even a rogue - dominated by NeoCon subversives - American administration, will be made to pay a price. Make no mistake about it, the Bush junta is an integral part of the shadow global cabal. The apparant discord may be a temporary blip for a "Temporary" skull and bones flunky. Any inference that George W might be an American hero for bucking the New World Order would be ludicrous. Internal squabbles have a tendency to be short. However, when a beleaguered emperor has a ring in his nose, and is guided by sinister renegades, the king may fall. Bush, the cowboy Texan, would do well to heed the lesson of Dallas! Judas clones sit at your table . . . allowing them to made policy is MAD, and will assure our mutal destruction. Bilderberg's are watching, you have been warned.
SARTRE - July 27, 2003
http://batr.org/gulag/072703.html
Blair and Straw have become far too close to these people and Lord Levy, who is an unaccountable ambassador in the Middle East, is part of this group. They are acting on an extremely Zionist, Likud-nik agenda. In particular I am concerned that some of them are pushing for an attack on Syria, for reasons of Israeli security.
UK MP - Tam Dalyell
---
SO-BRITISH FIGURE:
But well-connected Sir Evelyn has been a power on the international stage.
13 July 2003
The Express on Sunday
THE name Rothschild has been synonymous with banking for two centuries. But for the first time since the Napoleonic wars split them at the end of the 18th century, the English and French branches of the powerful dynasty are to merge their merchant banks.
The catalyst is the stepping down of Sir Evelyn de Rothschild, the 71-year-old Englishman who has run UK bank NM Rothschild and all other business outside France for more than 20 years.
His French cousin Baron David de Rothschild, 60, the new executive chairman, will merge the French bank's assets into a new entity called Concordia that will be domiciled in the Netherlands and owned equally by the French and English Rothschilds.
The move is part of a drive to make the bank a more transparent and competitive international outfit, while keeping it a family-owned, business, unlike rivals Schroders and SG Warburg that have sold out to bigger rivals Salomon Brothers and UBS.
It was Evelyn's determination to keep the bank in family hands that led him to oppose a plan from another cousin, Jacob, to merge the bank with Warburgs in the Seventies. David is already senior partner of the French bank.
"We firmly believe these measures to consolidate the various Rothschild shareholder and business interests will create a stronger, more unified group, " said David.
Evelyn, although he will remain chairman of NM Rothschild, will stand down from the board of its parent company, Rothschild Continuation. It will be a less prominent role for one of the great socialities of UK banking.
Three years ago, he married New York hostess Lynn Forester, who recently threw a party for Hillary Clinton. A desire to divide his time between the UK and the US is believed to be one of the reasons he is now willing to yield control of the bank. It was during last year's Golden Jubilee that Evelyn hit the headlines, giving the Queen 140 cases of his finest wine.
He is also a great art collector, owning 300 masterpieces.
In international circles, he attends meetings of the secretive Bilderberg Group of leading business and political figures.
His manner can be overbearing, leading many to suggest the change in leadership has not come a moment too soon.
But David was not first choice to succeed him. David's English cousin, Amschel Rothschild, had been groomed to take over as head of the English arm of the banking dynasty but committed suicide in 1996.
David's rise follows the emergence of his division as one of the leading dealmakers in France, despite being dwarfed by US rivals.
In recent years, it has consistently ranked in, or close to, the top five in league tables for European mergers and acquisitions.
INVESTMENT banking has been increasingly important for the firm, which was founded by Mayer Amschel in the 1770s. Separate ownership arose 20 years later when the Frankfurt-based founder told his five sons to set up separate businesses in London, Paris, Naples, Vienna and Frankfurt.
At the Battle of Waterloo, the Duke of Wellington's victory over Napoleon was funded by the English branch, one of many historical events that have decided the fortunes of the family business.
More recently, the bank was boosted by the close friendship of Baroness Thatcher and Sir Michael Richardson, its head of corporate finance, who died recently.
Richardson presided over much advisory work on the privatisations, stimulated by the Thatcher philosophy for business.
The process of appointing David as Evelyn's successor has its roots in 1992, when he was named deputy chairman of the London operations.
He had succeeded in re-establishing the family name in France after its Socialist government nationalised Rothschild bank in 1981. He founded a new bank and in 1986 persuaded the government to allow him to use the Rothschild name again. In 1996, David was appointed to a committee to oversee the Rothschild investment banking operations worldwide, and was put in charge of global integration.
David, who formally takes control tomorrow, will run the business from Paris but is expected to spend far more time in London than previously.
His appointment is thought likely to lead to some changes as the bank seeks to expand its business.
"David is younger, successful and dynamic and he is the best guy to run it, " said Keith Baird, an analyst at Prudential-Bache.
Although highly regarded, David is considered cautious. Evelyn has wanted Rothschild to develop in the Far East, Latin America and Germany but it is questionable whether David can deliver that kind of growth.
Where the company can continue to flourish, along with fellow-survivor Lazard, is by picking up business made available by the conflicts of interest that have arisen among giant competitors.
"Such developments in investment banks around the world have made customers want to go somewhere else, " Evelyn has said.
Rothschild has advised Dutch retailer Ahold on restructuring plans and French aluminium producer Pechiney on the hostile bid it faces from Canada's Alcan.
The bank is also advising Caledonia Investments on restructuring plans put forward by rebel shareholders, and was involved in the merger of electricity enterprises Lattice and National Grid last year. "It has a distinct strategy of offering network, contacts and experience, " says Philip Middleton, a banking consultant with consultants Ernst & Young.
"The big risk to it would be if it tried to compete with the big boys on price and placing power."
---
Michael Vestey
12 July 2003
Spectator Volume 292; Issue 9127; ISSN: 00386952
Radio
For conspiracy theorists there is something for everyone in the Bilderberg Group, an annual meeting of world leaders, bankers, businessmen and so-called opinion formers. Those on the Left can be suspicious of an elite gathering in secret to shape the world; those, like me, opposed to the EU superstate, can see something sinister in the European political class discussing further integration behind closed doors. The founders of what became the EU were, in fact, present at the early meetings, and Kenneth Clarke and current EU commissioners regularly attend; Clarke is a member of its steering committee.
Simon Cox attempted to get to grips with this slippery organisation in Club Class on Radio Four last week (Thursday). The nearest he got was an unattributable briefing from an anonymous person who attended this year's conference in Versailles and an interview with its secretary-general, Martin Taylor, who is also chairman of W.H. Smith. One can understand that being part of the Bilderberg freemasonry must be more exciting than selling paper clips and Basildon Bond. He explained that Chatham House rules are observed in that no one present is allowed to reveal what has been said. If a person breaks that rule he's not invited back. Cox's anonymous source said that this year one of the issues was the conflict between the French and the Americans over Iraq. The French foreign minister Dominique de Villepin is said to have remarked that, if the Americans hadn't insisted the war was about weapons of mass destruction and had merely admitted it was about regime change, the French would have supported Washington. The source added that Kenneth Clarke and Henry Kissinger tended to lead and dominate many of the meetings and he was surprised at how frank the discussions were. One advantage of secrecy, I suppose.
Examining the papers of the former leader of the Labour party, Hugh Gaitskell, Cox came across one from the very first conference at the Bilderberg hotel in Holland in 1954. The conference agreed that, although some sort of European union had long been a utopian dream, it should now be seen as a necessity. The Americans, rather foolishly as it's turned out, supported the idea. Today, journalists invited enjoy rubbing shoulders with the political and economic elites, even if they can't write about it. Martin Wolf of the Financial Times had to seek permission from Bilderberg to speak to Cox and only on condition that he didn't repeat anything that had been said at the conference. Interesting though this programme was, I find it impossible to decide if Bilderberg is a good or bad thing. One is just left with a vague sense of unease.
---
On the record
Tony Gosling, this website's editor, in conversation with David Rockefeller and his bodyguard James Ford in the gardens of the palace of Versailles. (picture)
As I mentioned on the Alex Jones show I had a chat with David Rockefeller at this year's meeting. This is an transcipt of our conversation:
G - What have you been talking about inside the Bilderberg meeting?
R - Exchanges about the state of the world.
F - I think you'd probably get more information by just asking each individual participant what their own views are.
G - I think with a press conference it would be seen to be more open.
F - Although there are lots of people in the press who are are actually attending.
G - I know but - it's funny - because only the independent press will cover it. How come The Times of London never covers it?
R - There's nothing secret about it. It is a private meeting. There's a difference between private and secret.
F - It's non-governmental organisations.
G - But there are a lot of government people there too. And there's things like third world debt, which is a serioous problem for millions of people in the world, and it's not even on the agenda
R - It wouldn't be appropriate. We pick subjects that the group is interested in discussing.
G - With the power that a lot of you people have also comes responsibility - to be in some way accountable particulary the government people who are here now.
R - We do things in various settings, congress etc.
I then asked about the quality of the food being served inside the Bilderberg meeting and James Ford recommended Le Mare resturant in Versailles and paid his compliments to London chef Marco Pierre White, head chef for the Criterion Brasserie on Piccadilly and L'Escargot on Greek Street.
---
10Jun03 - leaked document from the French ministry of the interior
click the image for the big version ->
http://www.faits-et-documents.com
Tony,
Find enclosed a secret document of the french police about Bilderberg group.
It comes from the service which is in charge of the protection of VIP's. They are furious because the Bilderberg didn't inform them of the summit in Versailles. Nevertheless, they have decided to protect VIP's during their rides in Paris or from the airports.
It's a very interesting document because it signifies that all the protection was made by private societies of mercenaries... It's not usual in France. If you want, you can put as source of the data, my name and my address.
It's aslo funny to read at the end of the letter the words "conférence"privée". For the French administration, the "" signifies that they know exactly what it is, and not private (it's a sort of joke for the officials which are not happy about that).
No French newspaper, at the exception of my small paper, Faits & Documents, has written a single line about this summit.
Thanks a lot
Emmanuel Ratier
Faits & Documents
BP 254-09
75424 Paris cedex 09
eratier@faits-et-documents.com
http://www.faits-et-documents.com
---
Bilderberg Hotels blamed for death of Pim Fortuyn - just in
http://www.perssupport.anp.nl/cgi-bin/perssupport/poc_anp.cgi?2002105113_LKG .4V.SPX.out19
PRESS RELEASE
Renkum, 13 mei 2002 - Today many phone calls came in at headquarters of Bilderberg Hotels & Restaurants from worried guests and suppliers. The reason for this is an article in Algemeen Dagblad last Saturday, in which involvement from the Bilderberggroep (amongst others) is suggested in the murder on political leader pim fortuyn.
The article refers to the Bilderberg conference, an international organization which meets annually, and which is named after Hotel de Bilderberg, where the first meeting was held in the 50's.
Bilderberg Hotels & Restaurants has therefore nothing to do with the organization mentioned above, and calls on news media editors to maintain the utmost carefulness in their publications.
For more information: Bilderberg Hotels & Restaurants, Mr. J. Serbrock, tel.0317-318.319.
ANP Press support, the ANP is not responsible for the content of the above message.
13 mei 02 13:27
http://www.perssupport.anp.nl/cgi-bin/perssupport/poc_anp.cgi?2002105113_LKG .4V.SPX.out19
---
The Franco-American divide: getting worse
"American anger at France was reignited last weekend by remarks that de Villepin made at Versailles to a foreign policy gabfest known as the Bilderberg meeting."
http://www.dailystar.com.lb/opinion/24_05_03_d.asp
The Daily Star, Lebanon, 26May03
After Napoleon executed his royalist rival, the Duc d'Enghien, in 1804, a French chronicler famously remarked: "It is worse than a crime; it is a mistake.
That bon mot sums up what's at issue in the debate over French policy toward the United States. Is recent French anti-Americanism simply a mistake ­ a product of the grandeur and romanticism of President Jacques Chirac and Foreign Minister Dominique de Villepin in their stand against the US-led invasion of Iraq? Or is it something more serious ­ the culmination of a long-running Gaullist challenge to US power and leadership?
There is growing evidence to support the latter view ­ that we are witnessing a deep Franco-American fissure and the start of a chilly new era in relations between the two countries. To rephrase the famous epigram: It is worse than a mistake; it is a policy.
The French and the Americans succeeded Thursday in patching things over enough to avoid what would have been a messy discussion at the G-8 summit that will begin June 2 in Evian, France. The UN Security Council voted 14-0 to approve a resolution that will end sanctions for Iraq and phase out the oil-for-food program (as the US wanted) and provide some form of oversight by a UN Special Representative for Iraq (as the French wanted).
But the new resolution is partly a fig leaf, critics argue; it avoids some of the messy issues about Iraqi reconstruction for the sake of a compromise that was backed by France's key allies, Germany and Russia.
The French want to preserve a role for the UN, even a symbolic one, since their only claim to global power is their status as a permanent member of the Security Council. And the Americans need this appearance of international harmony as much as the French do. Things haven't been going awfully well in Baghdad, and the Americans could use some international cover.
US and French officials say privately, however, that this veneer of pragmatism masks fundamental differences. To state it bluntly, Chirac's France rejects the interventionist global role claimed by George W. Bush's America. And Bush's America finds France a pompous nuisance, a country whose military power doesn't match its ambitions and whose views, in the end, don't matter.
The G-8 summit at Evian is likely to illustrate this divide, whatever the spin doctors say. Chirac is organizing the meeting as a not-so-subtle celebration of French leadership on such soft-power issues as the need to provide drugs for AIDS victims in poor countries. In a touch of this symbolism, the French president is inviting the heads of 25 smaller countries to join the Big Eight for a photo opportunity.
To American eyes, the Evian summit is being framed as an implicit rejection of American hard-power leadership. "Chirac will use the G-8 as a personal platform to grandstand and cater to the Third World,'' predicts one US official.
American anger at France was reignited last weekend by remarks that de Villepin made at Versailles to a foreign policy gabfest known as the Bilderberg meeting. Though the gathering was supposedly off the record, European and American sources have volunteered accounts of comments that infuriated Americans there.
It was only because Chirac and Pope John Paul II opposed the American war in Iraq that the world was able to avoid a Christian-Muslim "clash of civilizations,'' de Villepin reportedly said in response to a question. At another point, he implied that if America had just made clear from the outset that its goal in Iraq was "regime change," then the French might have been willing to go along.
Pique over the aristocratic style of the French foreign minister or the vanity of the French president misses the point. Chirac is following a traditional dictum of French foreign policy, namely: How do you maintain and enhance France's power in a world dominated by America?
The US response to Chirac's manipulations, alas, seems overwrought and ultimately unworthy of a superpower. For the White House to disclose that Air Force One is serving "freedom toast'' is at least as childish as anything the French have done. And French Ambassador Jean-David Levitte was right to demand last week that Washington stop winking at fabrications about French policy on Iraq.
Still, Chirac's riposte to America will almost certainly fail. Paris lacks the military might to translate its ambitions into reality. And while Germany and Russia may share French wariness of the Bush administration, they are unlikely to underwrite Chirac's continuing defiance of Washington.
The French version of optimism these days is that things will get better once Bush is gone from the White House. But in this, as in too many other foreign-policy judgments, the French appear to be making a costly mistake.
David Ignatius, Paris-based syndicated columnist, is former executive editor of the International Herald Tribune
http://www.dailystar.com.lb/opinion/24_05_03_d.asp
http://www.aljazeerah.info/Opinion%20editorials/2003%20Opinion%20Editorials/May/27%20o/The%20Franco-American%20divide,%20getting%20worse,%20David%20Ignatius.htm
---
The masters of the universe
By Pepe Escobar - Asia Times - 22nd May 2003
http://www.atimes.com/atimes/Middle_East/EE22Ak03.html
It may be instructive to learn what US Defense Secretary Donald Rumsfeld and the "Prince of Darkness" Richard Perle were doing last weekend. From May 15 to 18 they were guests at the Trianon Palace Hotel, close to the spectacular Versailles palace near Paris, for the annual meeting of the Bilderberg club.
Depending on the ideological prism applied, the Bilderberg club may be considered an ultra-VIP international lobby of the power elite of Europe and America, capable of steering international policy from behind closed doors; a harmless "discussion group" of politicians, academics and business tycoons; or a capitalist secret society operating entirely through self interest and plotting world domination.
The Bilderberg club is regarded by many financial and business elites as the high chamber of the high priests of capitalism. You can't apply for membership of such a club. Each year, a mysterious "steering committee" devises a selected invitation list with a maximum 100 names. The location of their annual meeting is not exactly secret: they even have a headquarters in Leiden, in the Netherlands. But the meetings are shrouded in the utmost secrecy. Participants and guests rarely reveal that they are attending. Their security is managed by military intelligence. But what is the secretive group really up to? Well, they talk. They lobby. They try to magnify their already immense political clout, on both sides of the Atlantic. And everybody pledges absolute secrecy on what has been discussed.
The Bilderberg mingles central bankers, defense experts, press barons, government ministers, prime ministers, royalty, international financiers and political leaders from Europe and America. Guests this year, along with Rumsfeld and Perle (US Deputy Defense Secretary Paul Wolfowitz is also a member) included banker David Rockefeller, as well as various members of the Rockefeller family, Henry Kissinger, Queen Beatrix of the Netherlands, Queen Sofia and King Juan Carlos of Spain, and high officials of assorted governments. The Bilderberg does not invite - or accept - Asians, Middle Easterners, Latin Americans or Africans.
Some of the Western world's leading financiers and foreign policy strategists attend Bilderberg, in their view, to polish and reinforce a virtual consensus, an illusion that globalization, defined under their terms - what's good for banking and big business is good for everybody else - is inevitable and for the greater good of mankind. If they have a hidden agenda, it is the fact that their fabulous concentration of wealth and power is completely dissociated from the explanation to their guests of how globalization benefits 6.2 billion people. Some of the club's earlier guests went on to become crucial players. Bill Clinton in 1991 and Tony Blair in 1993 were invited and duly "approved" by the Bilderberg before they took office.
There are innumerable shady, still unexplained connections between the early Bilderberg club and the Nazis, via Prince Bernhard of the Netherlands, the father of Queen Beatrix, who founded the club in Bilderberg in 1954 (the name is taken from a Dutch hotel), aiming to "increase understanding between Europe and North America". Bernhard was a member of Adolf Hitler's SS. One of the founding members of the Bilderberg is Otto Wolff von Amerongen - who actively improved business links between Germany and the Soviet bloc and served on 26 boards of directors, including Deutsche Bank. Few people know him - and perhaps for some good reason: he has been linked to the Nazi's theft of Jewish holdings before and during World War II.
Rumsfeld is an active Bilderberger. So is General Peter Sutherland from Ireland, a former European Union commissioner and chairman of Goldman Sachs and BP. Rumsfeld and Sutherland served together in 2000 on the board of Swiss energy company ABB. And ABB happened to have sold two light-water nuclear reactors to North Korea. At the time, of course, North Korea was not an active member of the "axis of evil".
This year, the Bilderberg meeting in Versailles conveniently merged into the G8 meeting of finance ministers in Paris, a 20-minute car ride from Versailles, on May 19. The procedure is traditional: what happens in the Bilderberg is usually a preview of what is later discussed at the full G8 gathering, which this year will be held from June 1 to 3 at Evian-les-Bains in the French Alps.
On Bilderberg's first full working day on May 15, French President Jacques Chirac delivered a welcoming speech, trying to bury the bitter divisions among the guests over the war on Iraq by emphasizing that the US and Western Europe are longtime allies. But Chirac's gracious hosting may not have been enough to soothe the hawks in the US administration still miffed at "pacifist" France.
An influential Jewish European banker reveals that the ruling elite in Europe is now telling their minions that the West is on the brink of total financial meltdown; so the only way to save their precious investments is to bet on the new global crisis centered around the Middle East, which replaced the crisis evolving around the Cold War.
According to a banking source in the City of London connected to Versailles, what has transpired from the 2003 meeting is that American and European Bilderbergers have not exactly managed to control their split over the American invasion and occupation of Iraq, as well as over Israeli Prime Minister Ariel Sharon's hardline policy against the Palestinians. As the Bilderbergers were chattering away, Sharon all but rejected Bush's Middle East road map, already endorsed by the other members of the so-called quartet: the United Nations, the European Union and Russia. This road map, as it stands, is over: even the presence of US Secretary of State Colin Powell - who stopped by Versailles to brief the Bilderbergers - was not enough to persuade Sharon to even discuss the dismantling of Israeli settlements in Palestinian territory.
American imperial adventures are usually rehearsed at Bilderberg meetings. Europe's elite were opposed to an American invasion of Iraq since the 2002 Bilderberg meeting in Chantilly, Virginia. Rumsfeld himself had promised them it wouldn't happen. Last week, everybody struck back at Rumsfeld, asking about the infamous "weapons of mass destruction". Most of Europe's elite do not believe American promises that Iraq's oil will "benefit the Iraqi people". They know that revenues from Iraqi oil will be used to rebuild what America has bombed. And the debate is still raging on what kind of contracts which rewarded Bechtel and Halliburton will "benefit" Western Europe.
Europe's elite, according to those close to Bilderberg, are suspicious that the US does not need or even want a stable, legitimate central government in Iraq. When that happens, there will be no reason for the US to remain in the country. Europe's elite see the US establishing "facts on the ground": establishing a long-term military presence and getting the oil flowing again under American control. This could go on for years, as long as the Americans can guarantee enough essential services to prevent the Iraqi people from engaging in a war of national liberation.
It was also extremely hard at the Versailles meeting to forge a consensus on the necessity of a European Union army totally independent of the North Atlantic Treaty Organization (NATO). The US establishment, of course, is against the EU army. But so are some Europeans, starting with anti-army cheerleader Lord Robertson, NATO's secretary general. Europe's elite can't stand US domination of NATO any more. Some Europeans suggest a separate force, but controlled by NATO. Americans argue that a separate EU force would dissolve NATO's role as the UN's world army. And Americans insist that NATO is no longer confined to the defense of Europe: its troops now could go anywhere in the world, directed or not by the UN Security Council. The impasse remains.
All these crucial developments were discussed behind closed doors. The Trianon Palace Hotel in Versailles was closed to the public and all non-Bilderberg guests had to check out. Part-time employees were sent home. The ones who remained were told that they would be fired if caught revealing anything about the meeting. They couldn't speak to any Bilderberger unless spoken to. They couldn't look anybody in the eye. Armed guards completely isolated and cordoned off the hotel. Some members of the American corporate press were there - but the public will never know about it: Bilderberg news is not fit to print - or broadcast. No journalists from any media controlled by Bilderberg multinational tycoons such as Rupert Murdoch were or will be allowed to report it. Even if they somehow managed to crash the party. There's no business like (private) elite business.
http://www.atimes.com/atimes/Middle_East/EE22Ak03.html
---
Question from Patricia McKenna MEP Approx February 2003
Commissioners Mario Monti, Erikki Liikanen, Pedro Solbes Mira, Gunther Verheugen, Antonio Vitorino and Frits Bolkestein have in the past attended Bilderberg meetings and are thus de facto members, since they are kept appraised of its activities. Commission President Romano Prodi was a Steering Committee Member of Bilderberg in the 80s, at the time when ECB President Wim Duisenberg was Treasurer. Three Commissioners are or have been members of the Trilateral Commission, Mario Monti, Chris Patten and Pedro Solbes Mira.
Will the Commission say which Commissioners will be attending the forthcoming Bilderberg and Trilateral meetings, whether they will be attending on behalf of the Commission or in an apparent private capacity, and whether they will be granted daily allowances or other expenses in connection with those meetings. Will the Commission ensure that these memberships are mentioned in the Commissioners' individual declarations of interest.
P-1370/03EN
Answer given by Mr Prodi on behalf of the Commission
(15 May 2003)
Several Members of the Commission have been invited to and have participated in meetings of the Bilderberg group during their term of office, while others have been invited and have participated before becoming Members of the Commission and have not then participated during their term of office. It should be pointed out that in the group's rules there is no such category as "member of the group". The only category that exists is "member of the Steering Committee".
No Member of the Commission is a member of the Steering Committee. Personalities who do not belong to the Steering Committee of the Bilderberg group may be invited to the meetings.
Occasional participation at a meeting does not need to be mentioned in the declaration of interests provided for by the Code of Conduct for Commissioners, since the act of participating occasionally at one or another conference, or of receiving information on the activities of a group, does not necessarily mean that the person concerned is a member of or belongs to a group.
As regards participation at the next meeting of the Bilderberg group, which is due to take place from 16 to 18 May 2003 in Versailles, three Commissioners have accepted the invitation that has been extended to them on account of their functions, although they will not be participating on behalf of the Commission. The three in question are Mr Monti, Mr Bolkenstein and Mr Lamy. Their trip will be governed by the rules generally applicable in this matter.
As regards the Trilateral Commission, its rules preclude the participation of any member who holds public office. No Commissioner is therefore a member of the Trilateral, and no Commissioner has as yet voiced any intention of participating in a future meeting of the Trilateral Commission.
---
A partnership heading for a destructive separation
From The Financial Times
- www.ft.com
- 21/05/2003 (966 words)
By MARTIN WOLF
The US is no longer a status quo power. Attendance at this year's Bilderberg meeting, in Versailles, made clear how big a challenge this poses to the health of the transatlantic alliance. I went to the meeting convinced that divorce between the US and Europe had become possible. I left thinking that it could easily become unstoppable.
Clyde Prestowitz, a former member of the Reagan administration, has expressed the worry in his provocatively entitled new book, Rogue Nation.* In this he makes two significant points. The first is that "the imperial project of the so-called neo-conservatives is not conservativism at all, but radicalism, egotism and adventurism articulated in the stirring rhetoric of traditional patriotism". The second is that this radicalism both frightens and enrages foreigners. What astonished me at the meeting is that these emotions are felt by pro-American businesspeople, politicians, academics and journalists. Americans believe that French and German opposition to the war in Iraq was a betrayal of decades of support. But many Europeans believe recent US behaviour was a betrayal of what the US has taught them. The ideological gulf is wide.
Americans and Europeans share many values. That is hardly an accident. The US devoted much blood and treasure to turning Europe into a stable continent of liberal democracies. But in many ways, Europe and the US have become very different. Most important, the US has now adopted old European theories of international relations, while the Europeans have embraced a newer American one.
The classic European system rested on the sovereign independence of states. In their relations, states recognised neither legal nor moral constraints. But states also agreed not to interfere in one another's internal affairs. Today's European states reject this view of the world, because it engendered catastrophe. Operating within an unstable balance of power, illiberal states fomented wars that brought the deaths of millions. European civilisation foundered.
The answer, Europeans decided, was to embrace the ideals proffered by the American president Woodrow Wilson: peace, free markets and democracy. Within Europe, under American auspices, they created a supra-national order that stood the classical system on its head. Instead of sovereign independence, Europe would have a supra-national authority and a shared commitment to democracy and human rights. Sensible Europeans are not naive enough to believe the world can operate without resort to force. They are also grateful to the US for its ability and willingness to apply that force. But they are Wilsonian, for an obvious reason: if Germany were to announce its adherence to the doctrines that now animate the US, stability in Europe would vanish.
Today's US is not Wilsonian. It is important, however, to define in what way it is not. In doing so, we must recognise the tension within the administration between nationalists and neo-conservatives. Where they agree is in their rejection of moral or legal constraints on the sovereign independence of the US. Where they disagree is on how far pursuit of those interests requires interference in the internal organisation of other states. Nationalists focus only on direct threats, principally state sponsorship of terrorism and weapons of mass destruction. Neo-conservatives desire to embed liberal democracy, as well, since its absence explains, in their view, why states generate these threats.
Nationalists then are anti-Wilsonian in both their means and their ends. Liberal imperialists are anti-Wilsonian in their means, but Wilsonian in their ends. Yet both groups unambiguously reject the secular religion of contemporary European elites, which is Wilsonian in means and ends. The new US doctrines are, from the general European point of view, poison. They invite them back to the world of Bismarck. For many Europeans the contemporary American ideology is made more bitter by the perception that it represents a betrayal of what they have learned from the US.
A transatlantic alliance cannot be sustained if the US remains dedicated to its current doctrines, except as a state of dependency on one side and mastery on the other. There are, instead, two alternatives. The first is a divorce, with abandonment of the institutions that bring the two sides of the Atlantic together. The second is a pragmatic partnership, in which the two sides work together in areas of common interest.
This is the approach advanced by a number of foreign policy thinkers, from both sides of the Atlantic, in a statement released at the end of last week.** The proposition is that common interests do exist both over immediate issues, such as Iraq, Israel-Palestine, Iran, terrorism, the proliferation of weapons of mass destruction, and over longer-term issues, such as development, trade and even global warming.
Yet if practical co-operation is to be achieved, much will depend on US behaviour. Tony Blair now plays a pivotal role. Should the credibility of his support for the US be destroyed, his country may range itself more closely alongside Europe's principal powers. For the UK, too, is thoroughly Wilsonian. Should the US replace an Iraqi tyranny with enduring anarchy, as has happened in Afghanistan, or fail to alter the dynamics of the Arab-Israeli conflict, it will be hard even for this prime minister to support the US in further ventures.
The US believes in unbridled freedom of action. Europeans believe in international rules. The US wants to transform the world. Europeans want to manage it. The difference reflects differences in power and in attitudes to its legitimate use. The transatlantic relationship is now a partnership of convenience. It is already no more than that for the US. Europeans should adopt a similarly utilitarian view. If they fail to do so, the amicable co-operation that is indispensable to both sides may become impossible.
* Rogue Nation: American Unilateralism and the Failure of Good Intentions, Basic Books, 2003;
** Declaration on Transatlantic Relations: How to Overcome the Divisions, May 2003,
www.cer.org.uk
martin.wolf@ft.com
www.ft.com
---
Profile of Bilderberg Secretary-General Martin Taylor
Management Today - 14/03/2002
After the famous bust-up at Barclays, he put his great future as a CEO behind him and, when not advising Gordon Brown or railing against the euro, does the portfolio rounds at WH Smith, Goldman Sachs and elsewhere. This brainy ascetic is as enigmatic as his CV
Martin Taylor looks a new man. Big smile, friendly handshake, chummy demeanour, strolling down the office tall and trim asking when I want to start, as if he has always been that kind of easy-going guy. He has on the dress-down gear to match his mood - open-neck knitted shirt, slacks, loafers, blue cord jacket slung over a chair.
Sorry? Is this the same young man-in-a-hurry who ran Barclays at the age of 41 and used to terrify many with his sombre suits and steelier intellect? Well, we're all a bit more relaxed now. Taylor, 49, has a portfolio career - non-exec chairman of WH Smith, adviser to Goldman Sachs, a clutch of directorships - and the change is clearly doing him good. He has also recently divorced and started a new family with someone rather younger than himself ... maybe it is more than just a change of office that has put a spring in his step.
I wish I'd had the opportunity to ask him, but at that stage I didn't know and Taylor wasn't about to tell me. He was seeing me on the hoof, anyway; he'd had to cancel the first appointment, had rung up later to apologise, said pop in tomorrow, he wasn't doing anything. The joys of portfolio flexibility.
If it's Friday, it must be Smith's. So there we are in his third-floor office in WH Smith's corporate HQ in London's Wigmore Street, informal as anything, small room, small desk, table, chairs, only the line of serious-looking books marching tirelessly across the windowsill giving a hint of personality.
Milk? Taylor pours my coffee and appears so genial that I am pinching myself. The last time we had met, at Barclays six years ago, he had been earnest, fast-talking, body tensed, crouched over my tape recorder, the sheer weight of running one of Britain's biggest firms seeming to bow him over. He had also shown signs of polite exasperation whenever I couldn't keep up. Everything was so complex, his intellectual rigour so sharp, his drive so unsparing that I found an hour in his company just made me feel a bit thick.
Taylor had started in journalism before moving into industry, and I had expected him to be more sympathetic. Others found him hard work too. As one of his former colleagues put it: 'Martin's great, but he is not the kind of guy you would go down the pub with.'
Then bang, three and a bit years ago, the golden boy suddenly walked from Barclays for reasons that have never quite been explained. Ructions over future strategy? Fallout with the chairman? Bored? Since then, Taylor, once hailed as the brightest young prospect in British management, has joined many other ex-CEOs in the portfolio routine, taking time off to advise Gordon Brown, sort out his family life and appear before the odd parliamentary select committee or two. He has also, perhaps unusually for a New Labour adviser, been an occasional campaigner against the euro, which he believes Britain would be mad to sign up to. Taylor, I suspect, is not loyal to any party line, simply to his intellect. Hence he is corruscating about matters he finds illogical, in a manner that many bosses would deem ill-advised.
That Friday, he was still recovering from the WH Smith AGM. Overall results at the retailer were fine - sales up to pounds 2.7 billion, stores worldwide now topping 1,500 - but there are blips in the US, with Smith's 600 outlets reporting a loss, and worries over long-term strategy. The shareholder response? Apathy, and, rather than being delighted, Taylor just looks peeved about it.
'Frankly, AGMs are a disaster. We had 30 shareholders coming, and we're pleased they came, but the average age was nearer 80 than 70. I mean, the meeting has no function. You could imagine it could have a function if the governance of the company was very bad, but ...'
He shrugs, his wide smile tightening into a grimace. His face is filling out with age but under the thinning flop of sandy hair, it still looks studiously boyish. Most chairmen, of course, are happy just to grin and bear shareholder apathy but that, it seems, is not in Taylor's make-up.
He says what he thinks and he thinks a lot. In a career that has spanned writing the Financial Times's Lex column as well as running Courtaulds Textiles and Barclays, it's probably got him in more trouble than people realise.
There is certainly a volatile restlessness about him that he is the first to acknowledge. It is the reason he cites for not becoming an academic despite sparkling academic success at school and university - 'Oh, I just can't sit still in libraries' - and is probably the reason he left journalism to work in industry. 'Actually, I was not that interested in news, really,' he says. And he wanted a change of scene. 'The thing that has driven me throughout my life is a fear of boredom.'
Is he easily bored? 'I was brought up to believe it is disgraceful to be bored, so it's almost the most shocking admission I could make to you, but the answer is yes. The great thing is that it makes you do things.'
It's why he loves his new portfolio career and why he was so determined, once he had left journalism, to rise fast up industry's greasy pole. Senior jobs are just more interesting. Oh, and he doesn't like being told what to do, either. 'I hate being told what to do, but unlike other people who hate being told what to do, I get no pleasure from telling other people what to do either.'
All of which makes you wonder how on earth Taylor became such an accomplished manager. He didn't want to do this, he didn't want to do that ... Like many able people, perhaps he just had too many choices. He grins. 'You might say my whole career has been doing things I am not, just a long series of impostures.'
Is it? 'Yes!' he laughs, and I can't really tell if he is serious, or not. I'd bet he got used to pretending from an early age. Born the eldest son of a Burnley accountant, he was packed away to boarding school aged eight just a week after his father died of a heart attack. Prodigiously clever, he was sent to Eton on a scholarship four years later, the only member of his family to attend the famous public school, and probably the only boy in Burnley. His younger brother, now a solicitor in the town, would tease him about being a posh southerner.
'Being a Burnley-born Old Etonian is rather strange,' muses Taylor, 'but then I tend not to categorise myself as an Old Etonian. All these things provide a certain amount of information but you can look at me through many lenses. I have been lots of different things.'
Ah. He describes his father's death as an 'enormously formative moment' in his life. 'I am not naturally very self-sufficient, but it made me more so.' It also, he says, made him both more sociable and more lonely. He was put up two years because of his academic prowess; by the time he was 10 he was working with 13-year-olds. Later, he was to use that prowess to take A-levels in Physics, Maths and Chemistry, switch to English at Oxford, hate that and flip to Oriental Studies and learn Chinese.
Those kind of fearless leaps were to continue through his business career. 'Maybe some of the terrors don't throw you so much because you have been through things that are so much worse,' he says, frowning. Why business? Part money - his family didn't have much - and part intellectual interest. He loves the complexity, although he is the first to acknowledge the pitfalls. 'Managers who are intellectually driven can be quite dangerous, of course, as they can pursue complexity for its own sake. And complexity is a terrible thing in business. The worst business I ever saw in my life was Barclays France in 1994, incredibly complex, structured to lose money in every way, but for the people who ran it, it was a source of endless fascination.'
He laughs. Barclays and Courtaulds, where he picked up 'the essentials of management', were diametric opposites. The textile firm was simple, unpretentious, easy to learn; the bank grand, complicated, full of flummery. When Taylor joined, Barclays had just posted its worst results for almost 300 years, a loss of pounds 244 million caused by bad loans and a recession squeeze. Within two years profits were back over pounds 2 billion and Taylor was being hailed as a management Wunderkind, even though he protested that much of the work had been done before he arrived. Three years after that, it ended in tears.
So what happened? Everyone knows he fell out with his chairman, Andrew Buxton - who also left abruptly - but why? Taylor sighs. 'We just disagreed so fundamentally on very important things ... It took me a long time to realise that what I thought I was there for was not what a lot of the board thought I was there for. I thought I was there to make the business more valuable, and they thought the job was to make the business more glorious. That is the pursuit that many banks did follow. I just wanted to make it a bloody good business. And for the first three years there was no trouble,' he adds, 'the two objectives were perfectly aligned.'
And then, when Taylor decided he wanted to break up BZW, Barclays' investment banking business, all hell broke loose. 'The board didn't want to think about it. I wanted us to get out of investment banking. The only way we could make a go of it would be to buy a huge investment bank, back our way into it - and that just clearly didn't make sense. But the board was attached to this fantasy of a UK champion. It was absurd, absolutely absurd.
'And BZW itself was dishonest in the way it presented its figures to the parent board. I got rid of it because it was a bad business and was never going to be a good business and we were going to have a problem if we kept pumping money into it. It just had to be addressed. The board was asked to address it on one occasion and refused to.'
It was, he says, a fundamental clash between the shareholder value model and the old-fashioned establishment model. Which to follow? 'In the end, as they would see it, I more or less took the law into my own hands. What we did was carve out what we wanted to get rid of and kept the rest to build a new business, Barclays Capital, which has been a huge success.'
But the leaks started, casting doubts about his judgment, and the atmosphere soured. The real problem, he says, was that he just didn't think that the non-execs - including, in 1998, David Arculus (IPC), Mary Baker (MFI), Hilary Cropper (FI Group - now Xansa), Peter Jarvis (Debenhams), Sir Nigel Mobbs (Slough Estates), Sir Nigel Rudd (Williams) - knew enough about banking to sort out the firm's difficulties.
'We tried to explain,' he says, 'but they did not understand the industry and they were not competent to make choices about it, and as a board not of a high enough quality for a business of Barclays' strength.'
Not competent? Others see it differently, of course, and put the blame squarely on Taylor's manner. One who worked with him at Barclays says he handled the board badly - 'He looked at people and treated them as idiots.' There were also serious concerns about the way he managed and the pressure he was putting on himself. According to another former colleague, it comes down to Taylor's one weakness: people skills. Like many formidably bright individuals, he's reluctant to trust the judgment of others.
So how did he become acclaimed as a manager? Because, as former colleagues at Courtaulds attest, he was brilliant in the right environment. No-one ever doubted his people skills at the textile firm. But at Barclays, something clearly rankled. The delusions of grandeur? He certainly left with a low opinion of some of the senior staff there. 'Most of the people in Barclays who thought of themselves as bankers had not actually learnt anything about the industry for 20 years,' he sniffs. They thought an inexperienced 41-year-old CEO would be malleable. That's why they appointed him. They were wrong.
Did the experience put him off CEO positions for life? 'No,' he says, 'I had already decided I was not going to be a CEO again. I had done five years at Barclays and intended to do seven; I had been a CEO for 12 years by then. Just in sheer physical terms most sensible people wouldn't want to do more than that.'
Did it hurt having his reputation dented, going from hero to fall guy so rapidly? He bridles slightly. 'I knew I was being overpraised when I joined and underpraised when I left, but one reason for that was the great deal of lies and poison being put out by wicked, mediocre men. That didn't worry me. What I was worried about was what was going on in the business, as it made the job impossible to do.'
Was it hard choosing what to do next? No, he says. The WH Smith chair was a safe port in stormyWas it hard choosing what to do next? No, he says. The WH Smith chair was a safe port in stormy waters. He was already a director and had sat on the committee that appointed Richard Handover as CEO of the retailer. The two work well together. Says Handover: 'I'm the operator. Martin is good at asking the awkward questions.'
Goldmans, who had been after Taylor for years, also stepped in. Taylor now works there as an adviser roughly two days a week, chairing their asset management business outside the US, and working with equities clients. He's a director of other firms too, many of them based abroad, as he likes to travel.
Is he paid a lot? 'Not much, but enough,' he shrugs. Over pounds 160,000 from WH Smith, more from others. 'I am rich enough to work because I want to, not because I have to.' He has famously ascetic tastes - lives in Kensington, no holiday houses, travels by Tube - so his living costs are not huge.
It also gives him enough time to devote to other projects, such as running Bilderberg, the controversial discussion group attended by politicians, academics and business bosses. Taylor is now secretary general of the organisation, which takes its name from the hotel where it first met after world war two with aims to 'increase understanding between Europe and north America'. Others have accused it of being an evil capitalist club bent on world power (I am not joking, take a look at the internet); the Guardian last year described it as a secretive clique.
'It's not secretive, it's private,' butts in Taylor sharply, 'but I wouldn't expect the Guardian to know the difference.' This spring's meeting will be in Washington. Yes, there will be demonstrators and heavy security, because of the government heads that will attend, but the group's detractors are just 'loonies'.
So if there is misunderstanding of the group's aims, why doesn't he PR it more effectively? 'Actually, I think that is the kind of sloppy thinking that gets people into trouble.' Gulp. I wonder if the Bilderberg's American links have any influence on Taylor's views on the euro? Of course not. Nor have his stints advising Gordon Brown on tax reform and tobacco smuggling caused him to muffle his anti-euro sentiments. What a suggestion ...
'I will talk about the euro any time you want. We would be mad to enter.' He picks off the reasons: for the first time in years we have a working monetary policy in the UK; Britain gets more trade from being 'the outlier' beyond the eurozone; Europe is rent with unfinished constitutional business and immense tensions, it only works now because Germany is weak, once Germany is strong there will be huge problems ...
'And if you join the single currency, you give up the means to manage the economy, it's as simple as that.' Better for business? Taylor almost sneers. 'Obviously, if you are a manufacturer of soap powder sold across Europe it would be convenient to sell it at one price, but what has your own convenience got to do with it?'
Does he think the Government will make us join? 'Maybe Tony Blair has a death wish, maybe he is attracted to the one thing in the world that can bring him down, I don't know. But Britain's good fortune in not joining the euro is considerable.'
He goes on to talk cogently about the lack of management skills at the heart of government, the obsession with spinning the present rather than planning the future, the ridiculousness of criticising business leaders who advise politicians - 'you get all this moaning about the public service ethic, then when you have people who aren't public servants displaying the public service ethic, people say it's unconstitutional!'
There is an edge of intolerance in his arguments, not of people but of their illogicality. At times he seems too highly strung, too wrapped up in issues that others don't spend more than a minute on. Yet when I move the conversation off business, to talk about how he spends his wealth or his leisure time, he becomes fidgety, getting up to check his e-mails, muttering about his password, glancing at the time. 'Are we there?' he asks, twice. His mood has swung. Eventually he ushers me out, relaxing again, chatting away about the photo shoot with Harry Borden in four days' time. He might have to go to Luxembourg - RTL, where he is a director, is being taken over by Bertelsmann - but don't worry, he promises, we'll get it sorted.
The next week, he's poleaxed by the flu, won't do the shoot and suggests we pull the interview. Whatever happened? Was he too frank about Barclays? Had I been digging too much in his private life? It was only after the interview that I learnt that Taylor, who has two grown-up daughters, had left his wife the year before last and now lives with Pippa Wicks, a 38-year-old Pearson executive who was formerly Courtaulds' finance director. It has been, others tell me, a traumatic time for him.
It seems strange, though, as he was so engaged and affable in the interview, that he had not mentioned it, especially as they now have a baby boy - my fault for not asking the right questions, perhaps. By the time I want to ask him about it, he's gone to ground. He confirms the facts by e-mail, says he has no problem with the personal details, but says he's been ill for some time, didn't feel great on the day I saw him and asks if I will come back and re-interview him. But it's too late for that. I hope he gets better soon.
TAYLOR IN A MINUTE 1952: Born 8 June in Burnley. Educated Eton and Balliol College, Oxford 1974: Financial journalist, Reuters 1978: Writer, Lex column, Financial Times 1982: Joins Courtaulds 1984: Director of Courtaulds plc and MD of Courtaulds Textiles 1990: CEO of Courtaulds Textiles after its demerger from Courtaulds 1994: CEO of Barclays plc 1997: Heads task force advising Treasury on tax and benefit reform 1999: Becomes chairman of WH Smith and adviser to Goldman Sachs Martin Taylor is also a director of the Buttonwood Focus hedge fund, the broadcaster RTL, the agrochemical firm Syngenta and the biotech business Antigenics.
---
Sparsely, Sage and Timely
"While the entire Bush clan appears to be depending on the Bilderberger crowd to keep them in the Oval Office, the Lord may step in and tell them, 'Enough.' "
By David V. Mitchell A nonagenarian correspondent in South Carolina
http://www.ptreyeslight.com/columns/sparsely/sparsely0403_03.html
Early this year, The Light started receiving letters to the editor from a 90-year-old subscriber named Julius C. Taylor in Taylors, South Carolina. I don't know if his ancestors founded the town or if the names are merely further evidence of the long arm of coincidence.
In any case, Julius identified himself as a veteran who had served in the Army from 1943 to 46 and the Air Force from 1950 to 54. His return-address label includes a photo of Ronald Reagan in a cowboy hat and notes that Julius is a "Reagan Ranch Member." His envelopes invariably carry American-flag stamps.
By now, Julius writes us virtually every day about the news, particularly the Bush Administration and the Iraq War. Given his background and letterhead, I expected him to favor both, but he doesn't. While Bush was denouncing everyone from Saddam Hussein to Jacques Chirac in the weeks before the bombing of Baghdad began, Julius wrote, "This wild President needs to be muzzled."
The range of Julius' political interests is amazing. Last Wednesday he wrote The Light, "Let's make a deal. I will trade our new South Carolina governor for California's governor – no questions asked. [Obviously Julius is familiar with this state's unpopular Gray Davis.]
"Our newly elected governor Mark Sanford, Republican, doesn't seem to know where he came from, where he is, or where he is headed. State Senator David Thomas, Republican, says, 'I give him the benefit of the doubt that (his agenda) is there, and he is pushing it – whatever it is.
"State Senator Thomas said that Gov. Sanford is somewhat laissez faire, and that coincides with his political philosophy: 'I have never seen that with the five governors I have dealt with.'"
Sometimes Julius' letters, however, are complementary in an odd sort of way. On March 24, he wrote, "Today my March 20 Light arrived...Sticking to the bottom of Page 1 was the address label of Sgt. First Class Mark A. McBurney in Decatur, Georgia. I don't know Mark, but he may wonder what happened to his Light. What a pleasure it would be to know that Mark did not miss a copy of your paper. After all, this is a valuable newspaper." Julius, you have my promise: we will send a copy of the March 20 issue to Sgt. McBurney.
But when Julius really gets swinging, his jabs fly right and left. "Will President George W. Bush be able to hornswoggle enough voters to be reelected? It appears this is his No. 1 problem right now," Julius wrote the evening Bush ordered an all-out attack on Iraq.
"While the entire Bush clan appears to be depending on the Bilderberger crowd to keep them in the Oval Office, the Lord may step in and tell them, 'Enough.' He did this after the first Bush ran for reelection." The 49-year-old Bilderberger Group, to which Julius refers, is a global elite that some people believe was founded to take over the world. The Trilateral Commission has been described as the child of Bilderberg.
Bush Sr., Julius added, "fumbled the ball with Iran-Iraq [enough] to cause a replacement: Bilious Clinton. We have been scraping the bottom of the barrel ever since.
"Our Senate and Congress need to step in and do their job and say, 'Look, boys, we must dust off our Constitution and read the requirements for declaring a war. It rests in the hands of Congress, not George W."
Our nonagenarian correspondent also keeps up with business news and last month noted in bemusement that Cheli Industries Inc. has, in truth, just developed "business suits with charcoal and jade powder sewn into the armpits and crotch to block computer-screen radiation and boost energy."
Probably anyone whose armpits and crotches are losing their energy ought to at least check out Cheli Industries. These days no one should have to endure the embarrassment of underarm dysfunction.
http://www.ptreyeslight.com/columns/sparsely/sparsely0403_03.html
---
Royal fortunes turn on a screw
Publicationdate: 3/7/2003
http://www.fdee.nl/ShowPaperArticle.asp?Context=X%7C1Pascoe%7CN%7C7&KrantArtikelId=436376&MarkupExpression=1Pascoe
BY ROBIN PASCOE
AMSTERDAM - Never before has a simple screw generated quite so much media coverage as it did yesterday, after Eef Brouwers, head of the state information service RVD, said that one had been mistaken for a microphone by princess Margarita.
Photos of the misleading screw, or photographers taking pictures of it, appeared in most Dutch newspapers yesterday, as efforts to debunk Margarita's allegations gathered momentum. Margarita alleges that she and her husband have been spied on, ostracised by and financially ruined by the royal family, with her aunt Queen Beatrix leading the fray.
'Secret service uncovers fake baron's antecedents, file shows improper goings-on,' read the headline in staunchly pro-royal paper De Telegraaf, referring to reports that Margarita's husband, Edwin, claimed to be a noble.
'Never before has a head of state been publicly accused of abusing her position without a shred of evidence,' the paper said, referring to Margarita's allegations that the Queen had abused her position of power.
Newspaper Trouw said that all the accusations against the Queen were irrelevant anyway because 'the monarch can do no wrong'. No matter what the Queen has done, she can never be held to account, the paper argued.
It was the intervention of prime minister Jan Peter Balkenende on Wednesday that put a serious political spin on a story which, until then, had been largely treated as anti-royal gossip.
Margarita's accusations were unveiled in a series of interviews with a Dutch magazine over the past four weeks but came to a head on Tuesday when Margarita told a TV programme that her conversations with Brouwers and the Queen had been bugged.
'The prime minister hits back,' said the left-leading daily De Volkskrant in its editorial. 'After four newspaper articles and a television interview, a political reaction could be delayed no longer,' the paper wrote.
And even though the prime minister fought back against Margarita's allegations, he did admit the most 'piquant fact' to date - that Edwin de Roy van Zuydewijn's background had been investigated in 2000, an allegation which was denied by the then-cabinet.
It was just as well that Balkenende had now agreed to make a statement to parliament, the paper said. 'More information is desperately needed if people are going to make their own judgement about this painful affair.'
Attention to Margarita is not simply confined to the Netherlands. Britain's Guardian newspaper ran a long article on the row yesterday, highlighting the fact that Margarita wants to claim £23 mln (euro 33.7 mln) in damages from the Queen for undermining her husband's reputation and business interests.
It cited allegations that the Queen is 'overly fond of red wine' and that her father, prince Bernhard, had a 20-year affair with his secretary.
This interest is to be expected given the scandals that have engulfed the British royal family, the NRC Handelsblad newspaper said.
http://www.fdee.nl/ShowPaperArticle.asp?Context=X%7C1Pascoe%7CN%7C7&KrantArtikelId=436376&MarkupExpression=1Pascoe
---
A royal headache from too much Margarita
February 2003
http://www.expatica.com/index.asp?pad=2,253,&item_id=29063
Forget everything you have been told about the Netherlands being a small, but happy and tolerant, multicultural constitutional monarchy.
There are some fundamental changes taking place in the Netherlands. Whether the changes will be good or bad depends largely on society here itself. Many things held to be self-evident have turned out to be pipe dreams and Dutch society needs to redefine itself if the Netherlands is to remain a vibrant and fun place to live.
Over the past 12 to 18 months, we have learned that the native Dutch don't understand or particularly like newcomers and vice versa, consensus-style politics has been abandoned as former allies savage each other and the Left is accused of complicity in murdering the doyen of the new right-wing populism, Pim Fortuyn.
The Netherlands' once proud record for business is badly tarnished by revelations of endemic price-fixing and fraud within the building sector.
The Dutch military tradition is no better off, as a series of reports have shown how dithering from the political and army leaders led to the massacre of some 7,000 Muslim men and boys supposedly under the protection of Dutch peacekeepers in Bosnia in 1995.
At least the royal family was a pillar of strength; we have had two royal weddings, one baby and a funeral for Queen Beatrix's much-loved German husband Prince Claus.
The House of Orange has been one of the enduring bastions of Dutch sobriety while the British monarchy mired itself in embarrassing-after-embarrassing scandals.
The reputation of the Windsors in Britain has been crippled by repeated blow-by-blow revelations of infidelity (Charles and Diana); failed marriages (Charles and Diana, Prince Andrew and Fergie); Diana's death in Paris and insensitive racially tinted remarks (Prince Philip).
And this is just the tip of the iceberg. Most recently, we have had the prosecution and subsequent acquittal of two butlers incorrectly accused of theft. Not to forget allegations of male rape and bullying among the staff.
The Dutch royals, in comparison, have been saintly, apart from one or two old unproved scandals.
There have been allegations that Queen Beatrix's German father, Prince Bernhard, the eldest son of Prince Bernhard von Lippe and Baroness Armgard von Sierstorpff-Cramm, was a member of the Nazi SS in his youth.
It was also suggested, but never proven, in the 1970s that a certain member of the royal family was mixed up in a bribery case involving US aircraft maker Lockheed (Bernhard); allegations of affairs and children conceived out of wedlock (Bernhard); and allegations of general wild living (Bernhard).
One might say there appears to be something of a pattern here. Queen Beatrix, on the other hand, is portrayed as a fun-loving, but responsible head of government, mother, wife and all-round caring person.
The nation's heart went out to her when she had to cope with the death of her husband, Prince Claus, in November 2002 just as the coalition government collapsed.
There is no denying that Queen's Day (actually the birthday of Beatrix's mother, Queen Juliana) is one of the high points of the Dutch social year as everyone takes to the streets to celebrate.
In light of this, we really know something is up in the Netherlands when we read headlines about how the Queen and the royal family have been accused of mounting a smear campaign against the husband of the Queen's niece, Princess Margarita.
Princess Margarita and her businessman husband, Edwin de Roy van Zuydewijn, have given a lengthy interview to magazine HP/De Tijd, which if true, casts serious doubt over Queen Beatrix's suitability to be head of state.
Margarita and her husband claim the royal household monitored his finances, the couple was bugged and attempts were made to prevent their marriage.
The couple apparently is getting ready to sue the royals for EUR 35 million for allegedly messing up Edwin's multi-million euro business deals.
And the Queen, Princess Margarita says, also tried unsuccessfully to stop her son, Crown Prince Willem-Alexander, marrying Argentinean Maxima Zorreguieta.
The Dutch AIVD secret service has not been spared and it has had to deny — possibly the first time it has ever answered a straight question — that it spied on Edwin.
Suggestions that the House of Orange is more dysfunctional that the Simpsons of Springfield could not have come at a worse time for Prime Minister Jan Peter Balkenende.
The Christian Democrat CDA leader wants to return the Netherlands back to the path of righteousness after years of what he would see as wanton indulgence under the two-term centre-left government that ruled from 1994 to May 2002.
The regime's emphasis on consensus in everything and tolerance of just about everything (cannabis, sex and porn, euthanasia, petty crime) has led to a lot of problems.
Many people think even the most basic laws do not apply to them and think nothing of littering, speeding, being abusive, cursing and fighting. The country has lost its quaint innocence and concern for your neighbours and the environment is out of style.
Balkenende wants to remedy this by re-injecting 1950's style norms and values back into society. His first attempt failed as his centre-right coalition imploded in acrimony and unchristian-like infighting.
But just as it looks like he has a second chance at promoting his vision of a modern, multicultural, orderly society, his best roll models, the multicultural House of Orange, has fallen from its lofty perch.
Balkenende must be wondering if the entire country is a lost cause.
http://www.expatica.com/index.asp?pad=2,253,&item_id=29063
and... Royal couple appoint compensation lawyer
http://www.expatica.com/index.asp?pad=2
Princess Margarita and her husband Edwin de Roy van Zuydewyn have appointed Professor P Nicolai as their representing lawyer to prepare a compensation claim against the royal family.
Nicolai — who previously successfully represented journalist Willem Oltmans in a legal battle against the State — confirmed his appointment on television current affairs show Nova on Thursday night.
The lawyer denied Princes Margarita and De Roy van Zuydewyn were initiating the legal action for money and claimed they were doing so in order to reveal the truth. He said the royal couple claims they were treated with ill-respect, harassed and tormented over several years by the royal family.
The lawyer believes he has been presented with a tough case, but that it will not be difficult to prove essential evidence indicating that Princess Margarita and De Roy van Zuydewyn were unjustly treated.
He also confirmed that the princess had taped a conversation with Queen Beatrix.
The tape allegedly recorded the monarch dismissing Princess Margarita's allegations against the House of Orange as being "very paranoid".
http://www.expatica.com/index.asp?pad=2
---
This Europe: House of Orange's apparent unity may peel away in court
http://news.independent.co.uk/europe/story.jsp?story=380476
By Isabel Conway in Amsterdam - 22 February 2003
The House of Orange has turned crimson with rage over allegations depicting Queen Beatrix as a manipulative snob who falls asleep at parties after too many glasses of wine.
To make matters worse the lid has been lifted not by the "boulevard" press in the Netherlands, but by an insider – the Queen's niece.
Now the feud between Princess Margarita and her husband, Edwin de Roy van Zuydewijn, and the Dutch Royal Family is threatening to spill into the courts. The couple, who now live in France, allege that a sustained slander campaign against them was orchestrated by the monarch and her court and has ruined their livelihoods.
Mr van Zuydewijn claims to have lost millions of euros in contracts. He and his wife say companies who were on the brink of signing contracts with his Fincentives, a business specialising in personnel options, mysteriously pulled out at the last minute. They claim the reason was pressure from the Dutch Royal Family. Palace insiders say Mr van Zuydewijn was seen as a "dodgy character" who styled himself as a baron. A genealogical expert told a Dutch newspaper his wing of the family had never been titled.
Professor W J Slagter of the Erasmus University in Rotterdam, who runs a legal business, confirmed that a legal action was planned and the couple intended calling 35 witnesses to back up their claim. For two weeks now a Dutch public, unaccustomed to any controversial publicity surrounding its royalty, has been lapping up further instalments of life inside the royal goldfish bowl in the current affairs magazine HP De Tijd.
Princess Margarita, who is the eldest daughter of the Queen's younger sister, Irene, portrayed her aunt as a tyrant who had decreed that Mr van Zuydewijn was unsuitable for marriage. When the couple married in France in 2001 few family members turned up. They claim that whenever they attended family gatherings since then they have been ignored and insulted.
Mr van Zuydewijn told how he was subjected to "psychological terror" around the royal dinner table during an inquisition on his business background. At one royal wedding the Queen ordered him to be removed from the group photograph. At one party they had attended, on the Queen's birthday, the monarch was slumped in a chair asleep and she drank a lot of glasses of wine, Mr van Zuydewijn told the Dutch magazine.
The couple also claimed that their former home in Amstedam was bugged and Mr van Zuydewijn's mail intercepted by the intelligence service.
Queen Beatrix is said to be appalled at the intrusion into the House of Orange's privacy and furious with her niece. The only official statement has been one stating that "out of love for Margarita the family does not wish to comment".
The Dutch royal biographer Fred Lammers, who has written books on Queen Beatrix and Crown Prince Willem Alexander, told The Independent: "This is all a nightmare come true; for years the Queen prided herself on avoiding the type of thing which has so damaged the British monarchy. Now it seems the skeletons are being rattled and, if anything, what's emerging here is even more damaging."
http://news.independent.co.uk/europe/story.jsp?story=380476
---
Angry princess breaks royal silence
Publicationdate: 2/21/2003 - Het Financieele Dagblad
The Queen's niece Margarita aims more arrows at her 'arrogant' family
http://www.fdee.nl/ShowPaperArticle.asp?Context=X%7C1Margarita%7CN%7C0&KrantArtikelId=434751&MarkupExpression=1Margarita
by Richard Jürgens
AMSTERDAM - The determination of Queen Beatrix's niece to get revenge for the way she feels the royal family has treated her since her marriage two years ago took a new turn this week when princess Margarita claimed that her grandfather, prince Bernhard, had a 20-year affair with his personal assistant.
The allegations were part of an exposé of royal life seldom seen in the Netherlands. In the second part of a long interview with weekly magazine HP/De Tijd published this week, the princess continued to air her grievances with her family.
She said that prince Bernhard had arranged for his assistant, 'Cocky' Gilles, to be given a private apartment at Soestdijk palace, and that he had later given her a house. The relationship was an open secret in court circles, the princess claimed, adding that she was annoyed to have to ask permission from her grandfather's mistress when she wanted to see her grandmother.
Margarita had been required to address the secretary as 'aunt' and to kiss her on the cheek when greeting her, Margarita said.
The royal family said in a statement that they regretted the princess's decision to speak in public about family matters, and would not comment further 'out of love for the princess'.
Margarita said she was angry with her grandfather, who she described as the 'king of Holland', because he had rejected her husband and had not attended parties to celebrate her engagement and wedding to Edwin de Roy van Zuydewijn.
The couple regarded the timing of the engagement party of prince Constantijn and Laurentien Brinkhorst, which took place on the same evening as their own, as a 'plot' on the part of Queen Beatrix's court.
Margarita said she was angry with the Queen for suggesting that her husband sometimes behaved in a rude and unpleasant manner. She countered that he had always acted in a polite and friendly manner to members of the royal family. The family had taken against him because he 'could look after himself' and did not meekly accept abuse.
The royal family were themselves capable of very unpleasant behaviour, she added. During festivities around the marriage of prince Bernhard junior she had seen prince Johan Friso waving with one hand from the bus while he held a derogatory middle finger up at the public below the window. She had heard prince Willem-Alexander referring to Pieter van Vollenhoven, husband of the Queen's sister Margriet, as a 'farmboy'.
Van Zuydewijn added that he had seen the princes and their cousins lighting up cigarettes in public buildings where smoking was forbidden, and using glasses as ashtrays. 'That shows their arrogance,' he said.
They both remember a particularly painful moment when Queen Beatrix made it publicly evident that she disliked her niece's choice of husband. Van Zuydewijn had placed himself next to Margarita for a photo on the occasion of the marriage of Constantijn and Laurentien. 'He will not be in the photo,' the Queen said. Van Zuydewijn had to take himself off.
'Don't worry, you should see the way they treat us,' he said a servant said to him, as he was standing fuming in a sideroom.
During the interviews with HP/De Tijd, which the magazine says took over six months to complete and include over 60 hours of tapes, the couple also claim that their telephone conversations were tapped in 2000. Margarita says that she asked her mother, princess Irene, whether this was the case, only to be told: 'Of course you're being listened to. Don't be so naive, child.'
The couple now live in France, in a chateau near Toulouse, to distance themselves from the events surrounding their engagement, they say. Van Zuydewijn works as a consulting strategic analyst withABN AMROsubsidiary Bouwfonds.
http://www.fdee.nl/ShowPaperArticle.asp?Context=X%7C1Margarita%7CN%7C0&KrantArtikelId=434751&MarkupExpression=1Margarita
---
House of Orange turned bitter by royal row
http://www.theherald.co.uk/news/archive/14-2-19103-0-6-21.html
BILLY BRIGGS - Glasgow Herald - Feb 14th 2003
THE image of Dutch royalty was tarnished yesterday by a princess's claim that she was the victim of a smear campaign designed to destroy her marriage.
In circumstances reminiscent of the row that engulfed Britain's royal family, Princess Margarita de Bourbon de Parme, went public with complaints that negative press was being fed by her own family.
The princess, who is fourth in line to the throne, is the eldest daughter of Princess Irene, Queen Beatrix's sister, and Carlos de Bourbon-Parma, erstwhile pretender to the Spanish throne.
The Princess told HP/De Tijd, a respected Dutch weekly magazine, that her home had been bugged and her husband's confidential records leaked to the press to blacken his name.
She also claimed that Queen Beatrix had coldly rejected her pleas to stop the royal house from releasing damaging information to the media.
"I was loyal to my family my entire life, but the moment I expected support there was none.
"They have tried to destroy what makes me happy," she said in a nine-page interview.
The row in the House of Orange was splashed across the front pages of national newspapers, with bold headlines quoting her as saying her father has an illegitimate child.
In an effort to end a string of negative media reports about her, Princess Margarita said she first went to the queen asking for help and then wrote to Wim Kok, the former prime minister.
Under the Dutch constitution, the premier bears responsibility for the royal family and speaks on their behalf.
She did not say when she wrote, but Mr Kok left office last year.
"I have the feeling the flow of negative press is being fed by my own family," Margarita is quoted as having written. "I am asking you to intervene."
The interviews prompted a terse statement in which the palace expressed regret over the articles and said it "doesn't recognise the family's portrayal" in them.
"Out of love for Princess Margarita, the family restricts itself to this reaction," it said.
Princess Margarita married Edwin de Roy van Zuydewijn, a commoner, in September 2001 in a relatively low-key ceremony.
Her father and most members of the royalHer father and most members of the royal family were absent from the ceremony, the reputed reason being the bridegroom's use of a bogus title.
The newlyweds live in a castle in Gascogne in south-west France and rarely appear in the Dutch press.
In the article, the first of a series, Princess Margarita claimed the royal house took such a dislike to her choice of partner that the couple have been socially isolated.
As the fourth in line for succession, Princess Margarita often represents Queen Beatrix at official or semi-official events.
In Romania yesterday, meanwhile, the remains of Carol II, known as the "playboy king", were welcomed with national honours on their return to his homeland, 50 years after he died in exile in Portugal.
The remains are to be buried today in a national funeral in the royal chapel in Curtea de Arges.
"Romania receives back its prodigal sons (to help us) be stronger in the future," said Adrian Nastase, the prime minister, calling the return "a reconciliation with the past".
King Michael, Carol's son, was notably absent from the ceremony. The former king, who had cool relations with his father, had nevertheless agreed to the return of his bones.
Known for romantic escapades that led him to give up his throne twice and earned him the nickname of "the playboy king", Carol II ruled Romania from 1930 to 1940.
Historians say his failed attempt to forge an alliance of small countries against Hitler was partly to blame for Romania's loss of territory to the Soviet Union in 1940.
http://www.theherald.co.uk/news/archive/14-2-19103-0-6-21.html
---
Thousands throng Fiat factory to mourn "king" Agnelli
Sat January 25, 2003 06:20 AM ET
By Christian Plumb
http://www.reuters.com/newsArticle.jhtml?type=topNews&storyID=2108622
TURIN, Italy, Jan 25 (Reuters) - Michael Schumacher bowed his head alongside Italians from all walks of life, as thousands gathered on Saturday to pay their last respects to Fiat patriarch Gianni Agnelli, the king of Italian business.
Even as the one-time jewel of his industrial empire looked increasingly tarnished, the man who in life never shrank from the spotlight was in death accorded the kind of attention usually reserved for heads of state and religious figures.
Fiat factory workers, top businessmen, sporting stars and union leaders came to the centre of Turin to mourn the man whose empire spanned cars and energy as well Chateaux Margaux wines and Ferrari Formula One racing.
The lavish send-off underscored Agnelli's status as Italy's de facto royal.
Thousands filed past the coffin laid at Fiat's founding Lingotto factory in the heart of the northern city, where flags fluttered at half-mast under blue skies and against a backdrop of the snow-capped Alps.
Banners emblazoned with Fiat logos hung side-by-side with those from his championship-winning soccer team Juventus, recalling a man who mourners remembered as much for his passion for sport, art collecting and beautiful women as for business.
Police said the factory would remain open all night if necessary.
On Sunday, a memorial is to take place in Turin cathedral, followed by a private family funeral. Agnelli is expected to be buried next to other members of the family.
Agnelli's surviving dynasty lined up to shake hands with those who had come to pay their respects, including Formula One racing driver Michael Schumacher, Ferrari chief Luca di Montezemolo and the whole of the Juventus football team.
Agnelli's younger brother Umberto, who is set to take over the reins of power, stood next to Agnelli's grandson John Elkann, tipped to be the long-term hope for Fiat, the company founded by Agnelli's grandfather in 1899.
Agnelli's death dominated national media coverage, with national papers devoting as many pages to the tragedy as they did to the September 11 attacks.
But the soft-focused nostalgia was mixed with questions about how long Fiat's ailing automaking operations would survive without Agnelli, their great defender.
Umberto Agnelli is seen to be far less enamoured with its cars, which in Fiat's heyday and under Agnelli's stewardship included design icons like the tiny Cinquecento car.
Elena Pertossa, 70-years-old and a nurse on Fiat's factory floor for 20 years, had made her way on to the roof of the Lingotto building, where the Agnelli family famously built a race track to test cars, to pay her last respects.
"He was a happy man, charismatic and intelligent but he died at an ugly moment," she said.
http://www.reuters.com/newsArticle.jhtml?type=topNews&storyID=2108622
---
Italy mourns Gianni Agnelli - death of a legend
Fri January 24, 2003 09:06 AM ET
By Philip Pullella
http://www.reuters.com/newsArticle.jhtml?type=topNews&storyID=2104804
ROME, Jan 24 (Reuters) - From the factory gates to the football pitches to the smoke-filled rooms of power and money, there was hardly an Italian who did not know who Gianni Agnelli was and what he meant for the country.
The Fiat chief, who died on Friday, was a wealth-creator to many, cold capitalist to some, fellow soccer and Formula One race car fanatic to all.
"He was a colossus in Italian public life. He gave so much to Italy through Fiat, but he was also an important man on the international scene, a man we were proud of," said Gina Prosperi, 48, manager of a coffee shop in central Rome.
Perhaps most of all, Agnelli was the living symbol of a country that underwent a breathless transformation from a war- devastated agricultural backwater to the world's sixth-largest economy in the space of two generations.
The reaction to his death in the corridors of power and finance reflected the almost princely stature he carried with a style and class unmatched in the country.
"This is certainly the end of an era," said Pierferdinando Casini, speaker of Italy's lower house of parliament.
"Without a doubt he was a symbol of everything we were and are. From the times of the economic boom and the (post-war) reconstruction of the country, through the dark years of terrorism -- the history of Fiat and the Agnelli family is intertwined with that of Italy," he said.
Agnelli's contacts, good looks, money and pedigree put him in pole position to represent Italy as the country broadened its social and economic horizons after the devastation of the war.
"He was perhaps, Italy's most unique representative in the world," said Giulio Andreotti, a seven-times former prime minister and current life-senator.
SOCCER FAN
Agnelli, who transformed the family car firm into a global name, will also be remembered on the soccer pitches, where he could curse down a referee's questionable call with the best of them.
All professional soccer matches will observe a minute's silence this weekend for the man who took off his tie and went to the stadium in his trademark wool fisherman's sweater and jumped up and down like a schoolboy after every goal by Juventus, the hugely successful team his family owned.
Agnelli had a style befitting the patriarch of a family dynasty whose role model was the Kennedys of the United States, with whom the Agnellis were close friends. He sold them on Italy the way he sold cars.
"He deeply despised cliches about Italy," said Furio Colombo, a newspaper editor who was the Agnelli family's chief representative in the United States during the 1970s.
His personal contacts with people such as President John F. Kennedy, former U.S. Secretary of State Henry Kissinger and David Rockefeller had a trickle down effect to help Italy, its economy and its image.
"He was a great ambassador for Italy and also a great ambassador of the outside world to Italy. He opened doors and windows for Italians. He, perhaps single-handedly, de-provincialised Italy's image in the world," Colombo said.
Agnelli was not a fervent Catholic and there were aspects of his private life that the Church would not have approved.
Still, even Pope John Paul sent his condolences. The Pope acknowledged that Agnelli was "an authoritative protagonist" of Italian post-war history and praised his role in the country's economic and social progress.
http://www.reuters.com/newsArticle.jhtml?type=topNews&storyID=2104804
---
The 'Michelangelo of networking'
Canadian acts for Annan in N. Korea
23rd January 2003
http://www.thestar.com/NASApp/cs/ContentServer?pagename=thestar/Layout/Article_Type1&c=Article&cid=1035776555446&call_pageid=968332188492&col=968793972154
Maurice Strong 'man of influence'
LYNDA HURST - FEATURE WRITER
Canada's Maurice Strong is in North Korea today to assess the country's humanitarian situation on behalf of United Nations Secretary-General Kofi Annan.
Officially.
It's almost certain he's really there to find out what's behind the isolated regime's current belligerence. As a U.N. spokesperson phrased it, "He is willing to listen to whatever the North Koreans will bring up." In throwing out U.N. nuclear-weapons inspectors last month, North Korea ignited the fury of the United States. In withdrawing Friday from the nuclear Non-Proliferation Treaty, it has added to the disquiet of a world already unnerved by the looming war in Iraq. Someone has to try to defuse the stalemate before it escalates still further.
But why has the 73-year-old Strong, albeit a man of many incarnations, been tapped to do it? The multi-millionaire businessman who made his fortune in the oil industry is best known for his rebirth as an untiring promoter of environmental globalism, a stance that's hardly endeared him to conservative elements in the U.S. How does overseeing, most famously, the 1992 Rio de Janeiro Earth Summit — which kick-started the Kyoto accord — translate a decade later into mediating a political crisis that could lead to nuclear war? Observers say people forget, or don't know, that Strong has had a long-time connection to the inner reaches of the U.N.
Indeed, for a man who's been described as the "Michelangelo of networking," who consults, advises or sits on more than 40 boards and foundations and has close friends that range from the Rockefellers and Rothschilds to Mikhail Gorbachev and Henry Kissinger, his public profile in recent years has been curiously low.
He led Ethiopian famine relief in the mid-'80s and was a major player on the U.N.'s restructuring commission in the mid-'90s. But in 1996, he was appointed a special adviser by Annan, one of several, but the one widely regarded as having particular influence. His diplomatic activities on Annan's behalf are rarely reported.
What is known is that Strong has been quietly involved with North Korean aid since 1995, when the country's state-run economy collapsed amidst drought, famine and several other natural disasters. In 1999, he met concerned Chinese and South Korean leaders over what can be done with a country that spends exorbitant amounts on arms while as many as 2 million of its people have died of hunger. Before he arrived in Pyongyang late last week, he was in Beijing meeting officials. As North Korea's sole communist ally, China may have a vital role to play — if it's persuaded to do so. So, if some wonder why Strong, David Malone, president of the U.N.-monitoring International Peace Academy in New York, asks why on Earth not Strong?
"He's a figure of significant influence internationally, a subtle and highly attuned operator," says the former Canadian ambassador to the U.N. "He is a good agent because he is a blank slate on the North Korea issue. He doesn't seek media attention."
Malone thinks the impasse between North Korea and the U.S. and International Atomic Energy Agency will end up before the Security Council within weeks. Before it gets there, Annan wants to know what exactly North Korean leader Kim Jong-il is really thinking.
Strong is being counted on — at least by the U.N., if not Washington — to find out what offensive strategy, if any, has he in mind.
"I doubt he's carrying any messages from the U.S.," says John McNeill, a historian at Georgetown University's school of foreign service in Washington, D.C. "Insofar as he attracts any notice in Washington, it's for international environmental action. But Strong has a maverick independence."
The fact that he is Canadian, though a highly unusual one, will count in his favour, says John Polanyi, the Nobel Prize-winning University of Toronto chemist. Strong won't be seen by North Korea as a servant of the U.S., which is viewed there as the one that's been ratcheting up the current hostility.
"I'm delighted he's there, it's a marvellous step, because talking at this high level is extremely important. It should have been done in Iraq and we might not be at the stage that we're at there." Polanyi, a leading advocate of nuclear disarmament, says it is crucial to determine the reasons for North Korea's reckless actions — "presumably it has some other purpose in mind than attacking the rest of the world." There are rational arguments to be made, he says, that can be listened to, and in turn made, by Strong. If North Korea feels threatened by its own economic weakness and isolation, "that can be addressed.
If the reason it is selling weapons is to get hard currency, that can be addressed." He has the ear of influential people the world over for good reason, Polanyi adds. "What most characterizes him is his belief that history is what you make it." Strong has a legion of fans in environmental circles, but skeptics as well, who don't like his business affiliations and question the depth of his passion for the cause. Though hugely admired in the business world, there are critics there who think his Father Earth-ism is either hopelessly idealistic or perilously left-wing. But both groups are intrigued by a man who was vice-president of Dome Petroleum at 25, president of the Power Corporation at 29 and the first head of Petro-Canada but who now sits on the boards of or advises alternative-energy companies. "He's a man of many parts," says Malone. "A man of action and influence."
Strong himself sees no contradictions in his life's work. A childhood spent in Winnipeg during the Great Depression produced an adult who was "a socialist in ideology, a capitalist in methodology," he once said. "He's a puzzle to many people, including me," says Robert Bothwell, director of U of T's international relations program. "I have an uneasy feeling about his having so many interests. Sometimes I think there is less there than meets the eye."
Bothwell says Strong's tenure as head of the Canadian International Development Agency in the mid-60s was "not impressive. And though he was brought in as the great miracle worker at Ontario Hydro in 1992, he did nothing to stop it spiralling further into disaster." But then, 1992 was an exceedingly busy year. Twenty years earlier, Strong had organized the first, small U.N. environmental conference in Stockholm, but the Earth Summit in Rio was a much more complex affair with disparate political interests.
A green card holder who once controlled a 40,000-hectare ranch in Colorado, Strong has contributed to both the Republican and Democrat parties because, as he once admitted, he "wanted influence in the U.S." He hasn't hesitated to lambaste the Bush White House for abandoning the Kyoto accord or for not attending the latest Earth Summit in Johannesburg last year. Certainly, some U.S. diplomats retain a distaste for him. The late Charles Lichenstein, deputy U.N. ambassador during the 1980s, told the conservative National Review in 1997 that Strong is "a very dangerous ideologue, way over to the left." He is regularly demonized by the American far right, which claims that underneath the save-the-Earth icing, Strong's real agenda is to transform the U.N. into a world government, in which the U.S. would lose primacy, except as a banker.
Whether he's networking with power-brokers at the studiously mysterious Bilderberg Conferences or at the annual Davos Economic Summit, he is ever plotting a power grab by the U.N., they claim. They point out that Strong was a key member of the Commission on Global Governance, which in 1996 called for an end to the veto power of the five permanent members of the Security Council — the U.S. included. But in his 2001 book Where On Earth Are We Going? Strong appears to rule out a world government. He argues that managing the technological society requires an entirely new governing structure; not a traditional hierarchy, but "a network of institutions, governmental and non-governmental, local, regional, national and international."
Strong has helped a protégé or two along the way. James Wolfensohn, president of the World Bank, was hired by Strong straight out of Harvard to work at one of his Australian oil subsidiaries. Forty years later, Wolfensohn appointed him his special adviser at the World Bank. A long-time Liberal, Strong was also happy to start the career of former finance minister Paul Martin back in his days at Power Corporation. Contacts matter to Strong. And getting the job done, whatever conflicting interests are in play. "One of the great underlying truths of environmental politics is that the environment is supranational," he has written. "It transcends the nation state. At the very least, it has to be dealt with multilaterally." The same, it didn't need saying, applies to negotiating world peace.
Which is why he is in North Korea as an envoy of the U.N. "And it really doesn't matter," says Polanyi, "if the U.S. likes him going in or not." In his latest incarnation as political mediator, Maurice Strong is still not prepared to let history passively happen.
http://www.thestar.com/NASApp/cs/ContentServer?pagename=thestar/Layout/Article_Type1&c=Article&cid=1035776555446&call_pageid=968332188492&col=968793972154
---
Bilderberg prepares to meet
Leaks from last May's Bilderberg meeting were one of the first indications in the world that Iraq had been selected for the transatlantic alliance's next military outing.
Bilderberg appears to be a key place where plans for U.S. imperial adventurism are run past the handful of people powerful enough to stop them. The Quisling British are 'ideal' U.S. allies as custodians of 'the language of commerce'. As the illegal Iraq invasion 'settles down', what will be the next staging post in the global crisis being engineered by the governments of Britain, The United States and Israel? Judging by last year's leaks, a fly on the wall in Versailles might well discover the answer.
There is evidence that the lower echelons of the ruling class are being told right now that the Western world is facing total financial meltdown. The only way to save their hard earned investments, they are told, is to throw their weight behind this global crisis centred around the Middle East to replace the time-expired East-West cold war crisis.... from PEPIS #48
Date and venue of Bilderberg conference 2003
Jim Tucker at American Free Press in Washington DC, tel. (202) 544 5977, has discovered the venue this year's Bilderberg Conference to be in Versailles, Paris, France. The Trianon Palace Hotel - May 15-18 2003 to be precise. Kenneth Clarke has confirmed the venue in his reply to a letter [see right]
See my latest email message here
Thanks Wesley for this: "Special Conditions From November 24, 2002 to April 30, 2003 the steam room will be closed. From May 15 to May 18, 2003 the hotel will be closed." http://www.hotels.travelmall.com/cgi-bin/pg_hoteldetails.pl?Code=WI%3bTRIAN
---
BILDERBERG TO MEET IN VERSAILLES
http://www.americanfreepress.net/03_28_03/BILDERBERG_TO_MEET_/bilderberg_to_meet_.html
The world's financial and political elite plan to hold their annual secret meeting at a posh French resort near the Palace of Versailles.
By James P. Tucker Jr.
Bilderberg will hold its annual secret meeting at the luxurious Trianon Palace Hotel in Versailles, France May 15-18. The meeting dovetails with the Group of Seven meeting of finance ministers in Paris the day after Bilderberg concludes, on May 19 in Paris. Paris is only a 20-minute drive from Versailles.
International financiers and political leaders from Europe and North America will be conducting public business behind closed doors at the palatial resort. Banker David Rockefeller, Henry Kissinger and high officials of the government and congressional leaders will participate, all pledging absolute secrecy.
Members of the Rothschild family from Europe and Britain will attend, along with high government officials.
Jim Hoagland will attend for the Washington Post and keep his pledge of secrecy. Publisher Donald Graham normally attends although he missed last year's session in Chantilly, Va. The New York Times, Los Angeles Times, Wall Street Journal and NBC, CBS and ABC have also been represented at Bilderberg meetings, binding themselves to a promise of secrecy.
Taxpayers will pay the travel cost for U.S. officials and lawmakers. It is against federal law for administration officials to hold secret meetings with non-officials to plan public policy. American officials will again ignore this law.
Central to the agenda will be planning post-war Iraq. France and Germany had extensive business relationships with pre-war Iraq and opposed the U.S. invasion. But what to do with Iraq's oil will be debated.
By noon on Wednesday, May 14, the Trianon Palace Hotel will be emptied of all non-Bilderberg guests. Employees of short duration will be sent home. Employees who remain will have been sternly told they will be fired and blacklisted if they reveal anything about what transpires. They will be told not to speak to a Bilderberg participant unless spoken to and never look one in the eye.
In the early afternoon on Wednesday, armed guards will begin patrolling the grounds and barriers placed at the entrance—removed only for personnel and Bilderberg staff. Bilderberg's private security of plainclothesmen will be in evidence. The advance staff will arrive with portfolios for each Bilderberg participant showing who is attending and listing the agenda.
Both uniformed guards and private security will be shown photographs of American Free Press reporter Jim Tucker and possibly others from Europe and Britain who have become "regular" at Bilderberg meetings in recent years.
Reporters have been held in jail for hours for asking questions outside Bilderberg gates. In Sintra, Portugal, guards boasted of sharpshooters on high rocks who could kill trespassers at night. So far, it is not known for certain that shots have been fired.
http://www.americanfreepress.net/03_28_03/BILDERBERG_TO_MEET_/bilderberg_to_meet_.html
---
Clues 1, 2, 3, 4, 5,
The G8 summit at Evians-Les-Bains, June 1st to June 3rd 2003 - details here http://www.g8.fr and Deviance
This year's venue and dates are not 100% certain... so why not check them out with the Bilderbergers yourself. Either leave a message on their answerphone or have a go at finding their secret location in Leiden and ask Maja personally! Of course all the main Bilderberg people will know, so ask them too.
European Office (Secret Location: Leiden, Holland)
Maja Banck-Polderman (Executive Secretary)
PO Box 3017
2301 DA Leiden
The Netherlands
Phone +31 71 5280 521
Fax +31 71 5280 522
If you are a public spirited Bilderberger yourself, why not let this website's editor know. If you are a mean hearted Bilderberger SORT IT OUT!
CLUE (1)
Isn't this the 50th anniversary of the Bilderberg conference? A perfect oppurtunity to celebrate its existence and organise it where it was held for the first time, Prince Bernhard's Bilderberg Hotel in Oosterbeek?
CLUE (2)
George Bush to be there? see clue 4
President Bush may be planning a visit to Norway the 26th of May. If so, after that he will move on to Russia, for attending to the St. Petersburg's 300-year jubilee celebration which take place the 27th of May.
After this, it is planned that his trip will go to a little vacation city, Evian-les-Baines in the French alps, with only 7500 habitans. Presumable to avoid any demonstrations maybe from 28th of May. This is by the press here in Norway said to be a G8 meeting, could this be a Bilderberg meeting that Mr. Bush will attend to, or maybe it wil be a place after?
Of course, this is only assuming, but though I think it must be a interesting clue for were this years Bilderberg meeting will take place, of course, if he will attend this year!
Clue (3)
Harrogate, North Yorkshire, U.K. May 2003
anon - claiming to be "UK govmental dept."
Clue (4)
Planning Norway - visit
President George W. Bush may come to Norway in the end of May. Kristin Halvorsen (SV, Socialistic Left Party) wishes him sincere velcome. So does Jan Egeland, the general secretary of the Norwegian Red Cross.
"I'm glad to meet George W. Bush. So I may say to him what we mean about his foreign politics."
And he must assume he will be met by big demonstrations here in the streets of Oslo, says SV-leader Kristin Halvorsen to Dagbladet.
Ministry of Foreign Affairs confirmed yesterday that Norwegian and American central authorities have had conversations, to put in place details regarding the American president's visit. A short working meeting is being talked about, where Bush comes in the evening, and travels on the day after.
"Should Bush come if United States at that time is occupying Iraq after a war that might be a bloodshed?"
"That I won't speculate about today. I can only confirm that conversations are taking place, and that Bush has plans to travel on from Norway to St. Petersburgh, says press- spokesman Kartsen Klepsvik in Ministry of Foreign Affairs to Dagbladet."
It is clear that the situation in Iraq will affect the visit. The worse the situation is there, the stronger the demonstrations will become. Bush should not assume to be welcomed by silent Norwegians, waving at him, says Kristin Halvorsen.
Should the visit be debated or decided by the national assembly?
"Visits like this is it only the government, and that alone, which decides. I hope Bush will take time to visit the foreign committee in the national assembly. By all, I hope that during his visit here in Norway, he will learn that it is a delusion that the Norwegian people fully backs the United States, as foreign minister Jan Petersen tries to make it appear, says Kristin Halvorsen.
Rights
The Norweian Red Cross works these days to minimize the civilian sufferings after a war in Iraq as much as possible. General secretary Jan Egeland visited Iraq himself recently, and has encouraged the government to use resources on humanitarian efforts, instead of war.
Nevertheless he also welcomes president Bush to Norway.
"We should have much to to say to Bush regarding protection of human rigts, peace work and reconciliation. If the visit will be established, I would just congratulate the government and wish it good luck"
Says Egeland to Dagbladet. Also about the Iraq-war, as you fear, will it be a bloodshed?
"I've learned through 25 years with peace work, that conversations with the ones you most disagree with, are the most useful. If we here in Norway can contribute to development in the world, first of all we should talk to exactly nations like the United States, Russia and China", says Egeland.
G8-meeting
Acording to Ministry of Foreign Affairs the program for the visit is not yet ready. But if Bush comes, he will have meetings with prime minister Kjell Magne Bondevik, and have audience at the castle (meet the king), since he is the American president.
After what Dagbladet experienced, Bush will not come to Norway on behalf of a direct invitation. The travel is a part of the so called G8-meeting, where the leaders of the worlds eight most poweful nations will be meeting, which this year is being arranged in France the 1st and second of June. The latest public opinion poll measurements in France show that more than 80% of the population is against a Iraq-war. It can mean that Bush will be met by huge demonstrations also there.
But the G8-meeting shall after the schedule be arranged in Evian-les-Baines in the French Alps, a little vacations city with a population of 7500 inhabitans-presumably to exactly avoid the demonstrators.
Dagbladet Wednesday the 19th of February 2003, by Arne Foss
From this article we learn that the president will visit the 300 year-jubilee in St. Petersburgh. After my research, this will be the 27th of May. That gives that the visit in Norway will be monday the 26th of May.
We learn by this article that the G8-meeting will be from sunday the 1st of June to Monday the 2nd of June. The anual Bilderberg meeting normally as you know take place the weekend between may and June.
So if the president will attend, it will not be far away in the region. Maybe at this exactly place as it was in 1992. Anyway I think it is likely that he will attend at this years meeting, due to the actual situation in the world today!
Thanks to Kristian for the translation
Clue (5)
Kenneth Clarke has revealed that the meeting will take place in Versailles, Paris, France. Trianon palace Hotel - May 15-18 2003
---